'Wonder Woman' Trailer: The Superheroine Finally Gets Her Own Big Screen Adventure [Comic-Con 2016]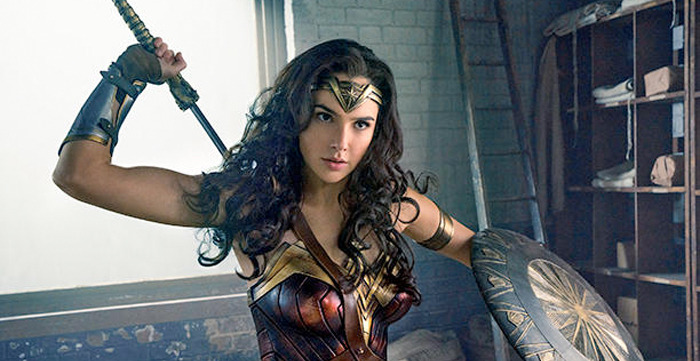 During Warner Bros. Pictures big panel at Comic-Con 2016, they rolled out some major teases for the continued expansion of the DC Comics cinematic universe. After debuting in Batman v Superman: Dawn of Justice, we finally have Wonder Woman all on her own in the first ever solo big screen adventure for the iconic DC hero. The crowd went wild for Gal Gadot here in San Diego, and now you can get taste that sweet hype as well with the first Wonder Woman trailer after the jump.
This looks astounding. The action is incredible, from Wonder Woman whipping around her lasso to deflecting bullets in the middle of a World War I battlefield, the footage is just astounding. And there's some humor there for people who thought DC was getting too dark. Plus, that awesome Wonder Woman theme plays right here at the end.
Considering Wonder Woman was one of the best things about Batman v Superman (even for those who weren't the biggest fans of it), plenty are excited to see what director Patty Jenkins will do with the property that will launch a whole new franchise in addition to adding another chapter to the lead-up to Justice League.
Jenkins talked about why she wanted to bring Wonder Woman to life, "In 1978, when Superman came out, that movie made me have an experience that I've never had before. I cried for Superman, I was Superman. It was the most powerful artistic experience I had as a child," and she wanted to do that for Wonder Woman. Jenkins added, "It's the best time in the world to make this movie."
Gal Gadot also added, "I watched a documentary about the real Princess Diana, and she one said that she leads from her heart and not from her head, and that describes our Diana best. For me as an actress it was important for me to portray this character in a way that everyone can relate."
In case you missed it, check out the first poster for Wonder Woman over here.
Wonder Woman" hits movie theaters around the world next summer when Gal Gadot returns as the title character in the epic action adventure from director Patty Jenkins. Before she was Wonder Woman, she was Diana, princess of the Amazons, trained to be an unconquerable warrior. Raised on a sheltered island paradise, when an American pilot crashes on their shores and tells of a massive conflict raging in the outside world, Diana leaves her home, convinced she can stop the threat. Fighting alongside man in a war to end all wars, Diana will discover her full powers...and her true destiny.
Joining Gadot in the international cast are Chris Pine, Connie Nielsen, Robin Wright, David Thewlis, Danny Huston, Elena Anaya, Ewen Bremner and Saïd Taghmaoui. Jenkins directs the film from a screenplay by Allan Heinberg and Geoff Johns, story by Zack Snyder & Allan Heinberg, based on characters from DC Entertainment. Wonder Woman was created by William Moulton Marston. The film is produced by Charles Roven, Zack Snyder, Deborah Snyder and Richard Suckle, with Rebecca Roven, Stephen Jones, Wesley Coller and Geoff Johns serving as executive producers. Warner Bros. Pictures presents, in association with RatPac-Dune Entertainment, an Atlas Entertainment/Cruel and Unusual production, "Wonder Woman."
Wonder Woman arrives on June 2, 2017.