The Excellent Comic Series 'Deadly Class' Is Heading To Television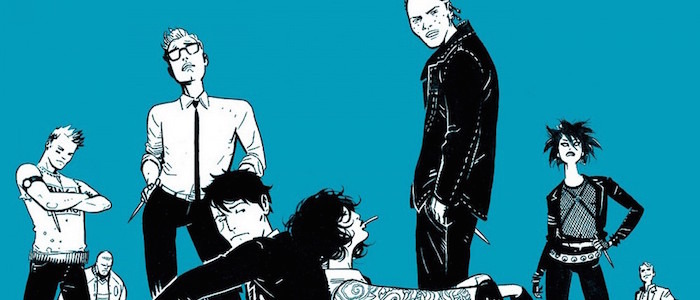 I always hesitate just a little bit when I open a new issue of writer Rick Remender and artist Wes Craig's Deadly Class. Not because I don't want to read it (it's one of the best comics on the stands at the moment), but because it so emotionally and viscerally harrowing that I have to steel myself. I mean it as a compliment when I say that this series leaves me drained and exhausted and glad that new chapters only arrive once a month.
And now, this ongoing story of '80s high school angst set in a secret academy that trains young people how to be deadly assassins is being made into a television show.
Deadline reports that the series is being written by Remender himself alongside Miles Feldsott, with Captain America: Civil War directors Joe Russo and Anthony Russo acting as executive producers. Banshee's Adam Targum will serve as showrunner on the series, which is being set up at Sony Pictures TV. Deadline notes that the goal is to pursue cable networks and streaming services to find a home for the show, which is probably the best choice. Deadly Class is the kind of material that's going to need to wiggle room for explicit content if it's going to be true to the source material.Deadly Class eventually takes enough left turns to transform into something very different than its original logline, but here are the basics. The series follows a young homeless man named Marcus Arguello, who struggles with crippling depression while barely surviving in the streets of San Francisco during the Reagan years. He gets a second chance of sorts when he's recruited into King's Dominion Atelier of the Deadly Arts, a (literally) underground school where the children of the world's most renowned criminals are trained in the art of murder. And while that sounds like a fairly straightforward premise, Remender and Craig are less interested in letting these kids have cool adventures and more interested in how institutions can damage a young person's soul. It's a dash of Harry Potter and a scoop of John Hughes, but deep fried in nihilism, regret, and poor choices. It's harrowing stuff.
Although this will be Remender's first screen credit, he's surrounded by television veterans. The Russos may have become Marvel's go-to filmmakers, but they got their start on the small screen, directing episodes of Arrested Development and Community (they're also currently working on a TV version of The Warriors). Targum's experience on the twisted and brutal Banshee makes him a solid fit for this material. On the right network, Deadly Class could be something very special.