J.J. Abrams Says 'Star Trek 4' Has The Best Story Of The Kelvin Timeline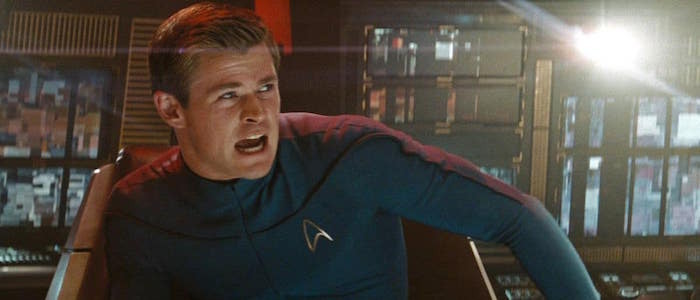 It's something of a ritual by now. The latest entry in a major franchise arrives, but the people behind the film aren't talking about it. Instead, they've already moved on to the next movie, the hypothetical sequel that only exists in a few conversations and on a cocktail napkin or two. The intention is obvious enough: "Go see this one so we can make the next one!"
This currently applies to Star Trek Beyond, which has received overwhelmingly positive praise from critics (our own Ethan Anderton gave it high marks) but isn't a surefire smash hit. It's no wonder producer J.J. Abrams is already singing the praises of the recently announced Star Trek 4 – this is a game of confidence and of properly setting expectations and promising that if you go see this one, you'll get more Chris Hemsworth in the follow-up.
We don't know much about Star Trek 4 (except that it will somehow find a way to awkwardly transform "Trek" into a verb for the final title), but we do know that it will see the return of Hemsworth as George Kirk, Captain James. T. Kirk's father, who was killed in the opening scene of 2009's Star Trek. That certainly means we're getting a time travel story. It also means we're getting a plot that Abrams describes as his "favorite Star Trek story that we've had."
Speaking with Entertainment Weekly at the Comic-Con 2016 screening of Star Trek Beyond, Abrams offered up high praise for Star Trek 4's story:
So one of the reasons that I'm hoping [Star Trek Beyond] does well is so that we can, without question, get that movie made. It really is an amazing story. It's really the reason we made the deal with Chris Hemsworth as soon as we could because we really wanted that story to be told, so fingers crossed.
The snarky response to this would be something along the lines of "But ugh, Abrams made Star Trek Into Darkness, so what does he know about a good Star Trek story?" I will offer this response instead: "Abrams has often displayed good taste and enthusiasm and I enjoy what he brings to the table, especially when he's working in tandem with the right filmmakers."
Entertainment Weekly also tried to grill Chris Pine about what's going on in Star Trek 4, but Kirk himself is totally in the dark:
I have no idea, I have no idea. J.J. hasn't really told me anything. But I'm looking forward to it, I love Chris, I think he's fantastically talented. We had a great time on the first one. ... It'll be a blast.
Star Trek Beyond is in theaters today.