Netflix And Marvel Reveal First 'The Defenders' Teaser, Announce 2017 Release Date [Comic-Con 2016]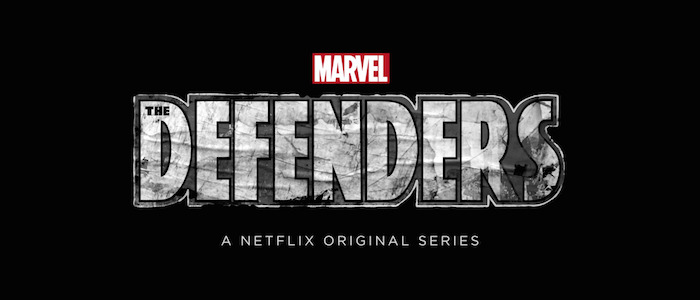 Who said you need something as silly as footage featuring actors and such to put together a trailer? The first teaser trailer for The Defenders was revealed at Marvel and Netflix's Comic-Con panel earlier today, giving all of the superhero junkies in the crowd their first taste of the miniseries that will see Daredevil, Jessica Jones, Iron Fist and Luke Cage team up. But it's just a tiny taste: the show won't even arrive for another year at the earliest and we know this because it was also announced that the series will premiere sometime in 2017.
With the first season of Luke Cage dropping in September and Iron Fist expected to premiere in early 2017, we can probably assume that The Defenders will be slotted into Marvel and Netflix's Fall slot...unless they try to make a bigger event out of this unlikely team-up and give it a summer release. After all, this is the world of streaming we're talking about. The only rule is that there are no rules.
But let's now turn our gaze upon the teaser trailer, which combines imagery associated with the four heroes who make up this ragtag team of vigilantes while Nirvana blasts in the background. There's not much here, but for a certain flavor of geek, there is a definite thrill in seeing these names and their associated iconography in one place. Naturally, it all concludes with the reveal of the show's logo, which looks like it was hastily cut out of a newspaper.
While the show hasn't even begun filming yet (there are currently no writers, producers, or directors attached), we do get one line of dialogue: "You think the four of you can save New York? You can't even save yourselves." Unless my ears deceive me, that on-the-nose line is the voice of Stick, Matt Murdock's blind mentor played by Scott Glenn in both seasons of Daredevil. But save New York from what? The official description of the series offers no help:
Marvel's The Defenders will unite Daredevil, Jessica Jones, Luke Cage, and Iron Fist, as they face their biggest threat yet.
The Defenders teaser was the grand finale to a panel filled with goodies: there was the news that Daredevil is officially coming back for a third season, a new trailer for Luke Cage, and the first footage from Iron Fist. There was also this sizzle reel recapping the Netflix corner of the Marvel Cinematic Universe so far: