'Snowden' Trailer: Oliver Stone And Joseph Gordon-Levitt Are Here To Stir The Pot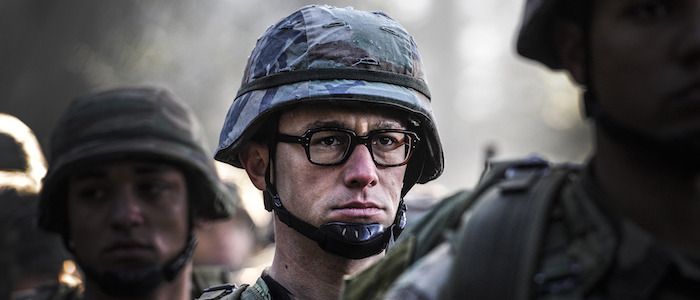 Oliver Stone's Snowden may seem like an odd fit for Comic-Con, but the controversial filmmaker and his cast took the stage at Hall H earlier today to premiere a new trailer for his Edward Snowden biopic and engage an audience of nerds on topics that are a bit more heated than your average pop culture discussion. The full panel was apparently a weird one (for starters, Stone said that Pokemon Go was a big step toward totalitarianism), but movie itself looks like a fairly straightforward examination of Snowden and his controversial actions. This movie is going to ruin a few family dinners no matter its stance on its subject, so start arming yourself for the inevitable screaming match between you and the people you love by watching the new trailer below.
If you've kept at least one eye on current events, you know the basic gist of this movie already. Joseph Gordon-Levitt stars as Edward Snowden, the former government contractor who leaked confidential information about NSA surveillance on American citizens and found himself a wanted fugitive. Whether you believe he's a patriot or a traitor or something in-between is between you and yourself. All I'll say is that seeing moments from the Oscar-winning documentary Citizenfour (which chronicles the same story) dramatized with recognizable actors is very strange.
Although Snowden is incredibly relevant, the trailer is pretty standard stuff, utilizing all of the familiar cliches. There's even a super-slow, super-sad cover of a typically upbeat song! Stone used to be one of our angriest filmmakers, directing movies brimming with passion and violence and rage. In trailer form, Snowden looks like one of his more sedate films (think World Trade Center), but who knows? Maybe a safe route is the right route for material this fresh.
The supporting cast of Snowden includes Shailene Woodley, Melissa Leo, Zachary Quinto, Tom Wilkinson, Rhys Ifans, Nicolas Cage, Scott Eastwood, Joely Richardson, Timothy Olyphant, and Ben Schnetzer. Here's the official synopsis:
Academy Award®-winning director Oliver Stone, who brought Platoon, Born on the Fourth of July, Wall Street and JFK to the big screen, tackles the most important and fascinating true story of the 21st century. Snowden, the politically-charged, pulse-pounding thriller starring Joseph Gordon-Levitt and Shailene Woodley, reveals the incredible untold personal story of Edward Snowden, the polarizing figure who exposed shocking illegal surveillance activities by the NSA and became one of the most wanted men in the world. He is considered a hero by some, and a traitor by others. No matter which you believe, the epic story of why he did it, who he left behind, and how he pulled it off makes for one of the most compelling films of the year.
Snowden opens on September 16, 2016.