New 'Suicide Squad' Footage Highlights Jared Leto's Take On The Joker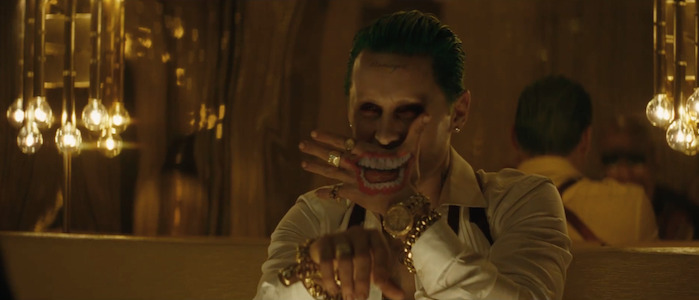 When Jared Leto's take on the Joker was initially revealed, it resulted in the loudest, angriest fanboy temper tantrum to hit the internet since, well, Heath Ledger's take on the Joker was initially revealed in the early days of marketing for The Dark Knight. Since then, most everyone has seemingly come to terms with the fact that the new Clown Prince of Crime is a heavily tattooed maniac from the streets who looks nothing like any previous version of the character. At least everyone has stopped screaming and has started quietly muttering to themselves.
We won't be able to give Leto's performance any final marks until we actually see him in action in Suicide Squad next month, but we can watch this new promo that puts the spotlight on the character and jump to some hasty conclusions. You know, if that's your thing.
This video follows in the footsteps of the extended looks at Margot Robbie's Harley Quinn and Will Smith's Deadshot, blending general footage from the various trailers released so far with a bunch of new footage focusing on the Joker. It's still not clear how he fits into the plot of Suicide Squad (hell, it's still not entirely clear what Suicide Squad is even about beyond its basic premise), but sheer number of outfit and location changes in this footage suggests that the Joker may appear mostly in flashbacks to Harley's origin story. He's certainly not a member of the titular team and he's definitely not their main adversary.
But what are we to make of Leto's actual performance in this footage? It's certainly a unique take, with Leto ditching the Joker's classic "perverse gentleman" persona and embracing something gnarlier, more grotesque, and modern. Director David Ayer has said this Joker is based on the young and wealthy drug dealers who share their gaudy lifestyles on Instagram and this is definitely the kind of Joker who would have an obnoxious social media presence. If new toys revealed at Comic-Con are any indication, he's the kind of villain who would actually take the time to design and wear his own Batman costume. At the very least, I admire that Ayer and Leto have concocted someone who looks deeply unpleasant and vile – this is a villain who could be very easy to hate.
Suicide Squad is set to open on August 6, 2016 and early tracking suggests that it could be huge.