Adam Sandler Traps Jennifer Hudson In His Next Netflix Movie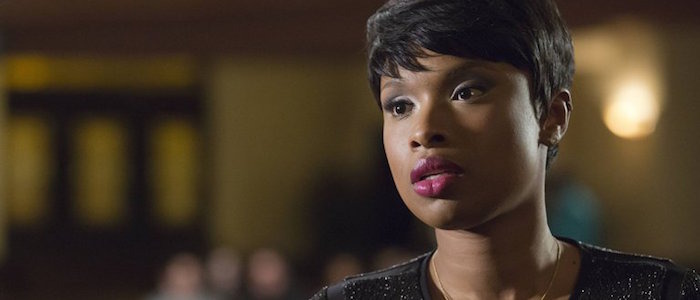 It's hard to tell if Adam Sandler's four-picture deal with Netflix represents him being ahead of the curve in a major way or it it represents some sort of decline. Right now, making movies directly for a streaming service can't help but feel like a descent into direct-to-video territory (although the independent productions Netflix routinely acquires don't carry that possibly imaginary stigma), but who knows how future generations will feel on the matter. I won't be watching The Ridiculous 6 or The Do-Over anytime soon, but they certainly represent a chapter in a future book chronicling the rise of streaming movies.
And now the Great Adam Sandler Netflix Experiment is set to continue with a film titled Sandy Wexler and Academy Award winner Jennifer Hudson is being dragged along for this one.
The Hollywood Reporter has the story. Sandy Wexler will star Sandler as the title character, a talent manager with a group of eccentric clients who finds himself falling in love with a singer named Courtney Clark after he discovers her performing at an amusement park. The premise is less inherently crass than Sandler's previous Netflix comedies, sounding like a raunchy romantic comedy in the same vein as The Wedding Singer and 50 First Dates. Still, this is an Adam Sandler film, so expect awkward cameos from his buddies, even more awkward product placement, and more than a few scenes built around scatological comedy. If that's your thing, then by all means, go with God and so on.
Hudson famously emerged as one of the most successful people to ever not win American Idol, taking her loss in stride and launching herself into a hugely successful music and film career. She won an Oscar for her show-stopping film debut in Dreamgirls and has since appeared in Empire, Smash, and Chi-Raq. She probably doesn't need to be playing second fiddle to Adam Sandler in a Netflix comedy, but hey, who am I to deny anyone a paycheck? For all I know, Sandler and Hudson will showcase surprising chemistry and prove to be a cute and amusing screen couple! But that's for all I know and who knows how much that really is.
Sandy Wexler will reunite Sandler (who co-wrote the screenplay alongside Paul Sado and Dan Bulla) with Steven Brill, who previously directed him in The Do-Over, Little Nicky, and Mr. Deeds. There is no release date yet, but filming is set to begin next month for a 2017 release.