Sideshow Collectibles & Hot Toys Reveal The Latest Goodies For 'Iron Giant', 'Back To The Future Part II' & More [Comic-Con 2016]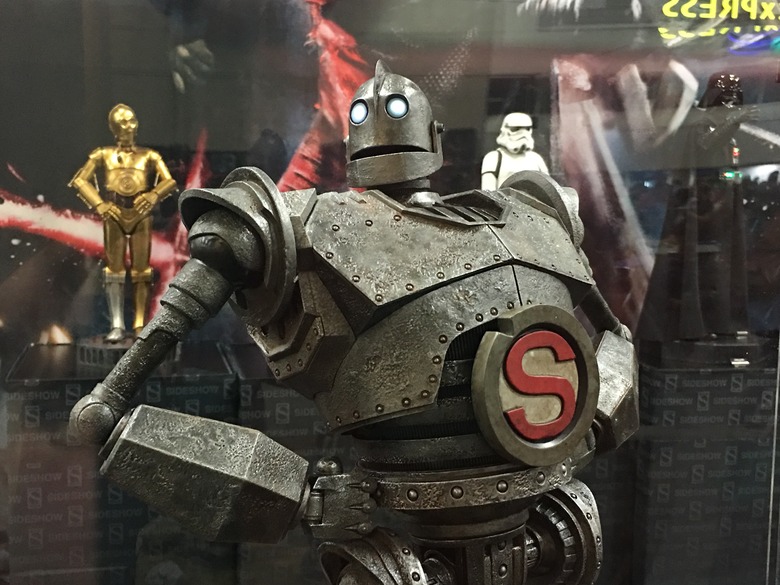 We're in the middle of the hustle and bustle at Comic-Con, and last night we made sure to stop by the Sideshow Collectibles and Hot Toys booth in the middle of the show floor to find out about the latest goodies the high-end collectible creators were showing off on the convention floor. We were not disappointed with the line-up of new stuff coming down the road, which includes a whole new DeLorean time machine for Back to the Future Part II, a new collection for the Teenage Mutant Ninja Turtles, a heroic statue for The Iron Giant, the most accurate Darth Vader bust created by Sideshow to date and much more.
Check out all of the Sideshow Collectibles and Hot Toys Comic-Con 2016 goods after the jump.
Teenage Mutant Ninja Turtles
This is the first time all of Sideshow Collectibles new statues for Teenage Mutant Ninja Turtles have been seen together, featuring a whole new take on the heroes in a half-shell. The good news is that the Leonardo statue you see above is available to order right now for $349.99. As for Michelangelo, Donatello and Raphael, they will be available to purchase in the coming months, and this is the first time anyone has seen them in public. And in case it wasn't clear that this isn't something for your kids, some of the turtles' weapons are metal.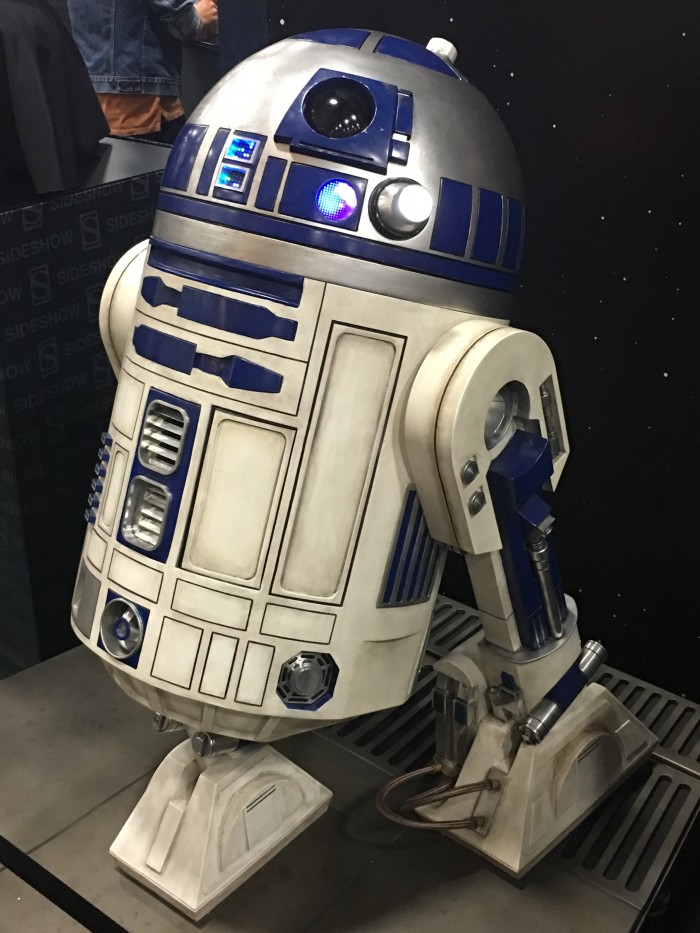 R2-D2
This is a life-size R2-D2 that makes sounds and lights up. This isn't the first time that Sideshow has made a replica of the famous astromech droid at this scale, but this time R2's dome head can swivel, and he'll come with a remote that will fit inside one of his compartments. However, that remote won't move him around on the floor or anything because he stays attached to base on which he sits. We were told the base was made a bit bigger this time because some people who bought the previous R2-D2 said they kept bumping into him when they got too close while walking by and would occasionally damage the little guy. No price or release date was revealed just yet as the paint was literally drying the night before preview night began.
The Iron Giant
This is a truly breathtaking statue. Not only do the eyes light up, but Sideshow Collectibles will have an exclusive version that comes with the "S" on The Iron Giant's chest as you see here. There was no exact price, but we were told that it would likely be in the range of Sideshow's more recent Voltron maquette, which costs $1250. No release date was available for this yet either.
Rocket Raccoon and Groot
Sideshow Collectibles is looking to the comic books for inspiration for a new line of collectibles for Guardians of the Galaxy, and everyone's favorite duo is among the first to be crafted. As you can see, these designs are drastically different from the movie versions of the characters, but they look absolutely amazing.
Deadpool
This was easily one of the more elaborate new pieces that Sideshow Collectibles has on the way. Deadpool is jumping away from an explosion while slicing a grenade with his sword and shooting an assault rifle. The details are so intricate that you can see a little bullet at the tip of the fire flash from the barrel of the gun. There will be an alternate accessory that will allow you to replace Deadpool's sword with a selfie stick, which is absolutely something the Merc with a Mouth would do.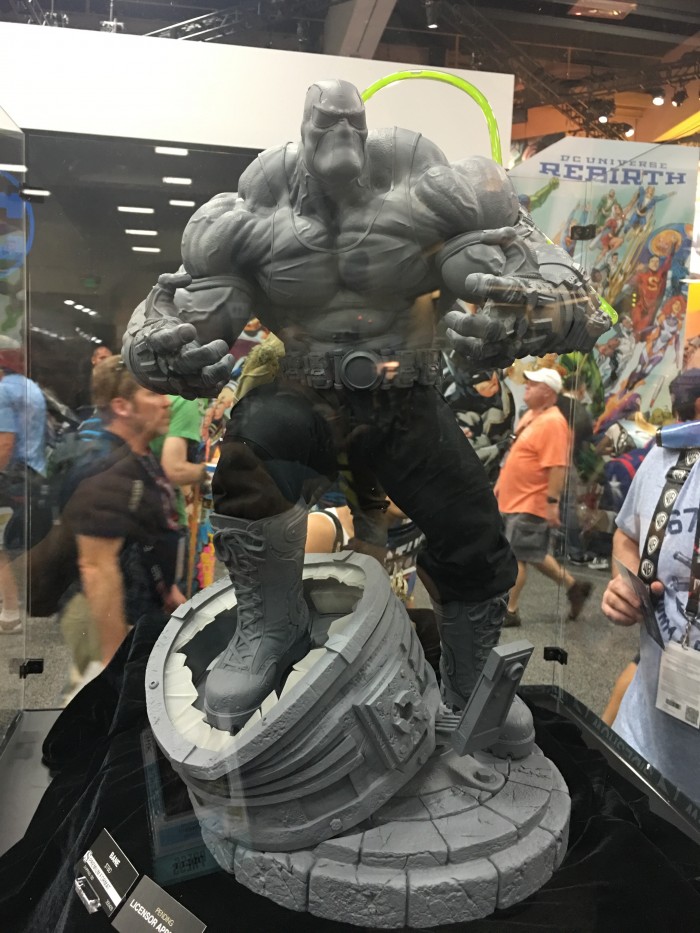 Bane
This was one of the unfinished pieces that Sideshow Collectibles had on the show floor. You may be thinking that this doesn't look very special, because it's just another version of Bane. But what's cool is that this is a fourth scale version of Bane, which means this design of the character is massive if you were to compare him to a fourth scale Batman.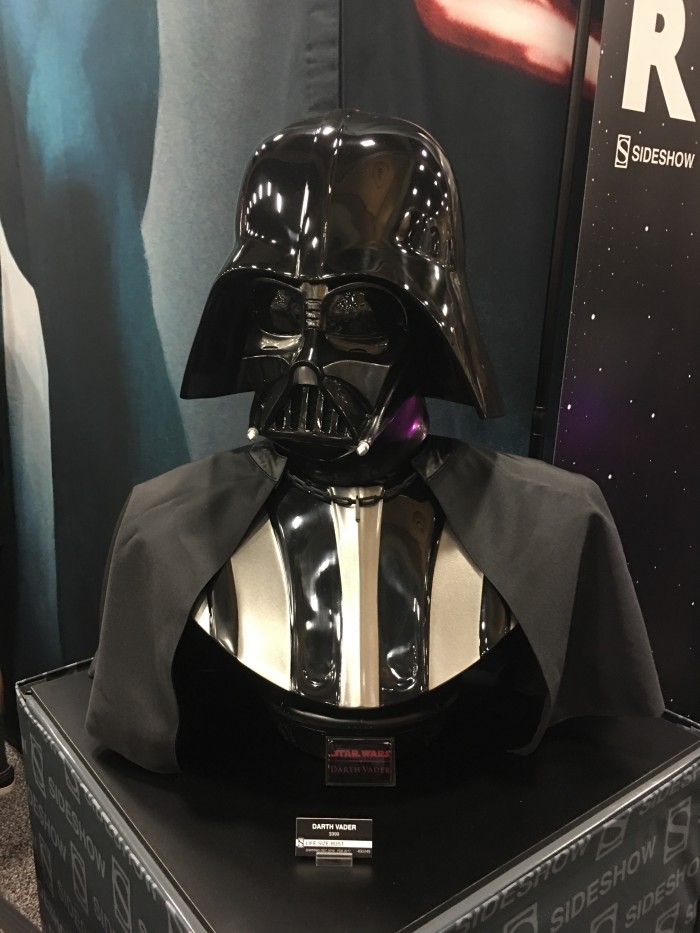 Wolverine vs The Hulk
Inspired by a comic book cover, this is another venture into purely comic territory for Sideshow. If this were part of a diorama with a comic panel in the background, it would look just like a three-dimensional comic book. Like the Teenage Mutant Ninja Turtles weapons at the top of the page, Wolverine's claws are meta.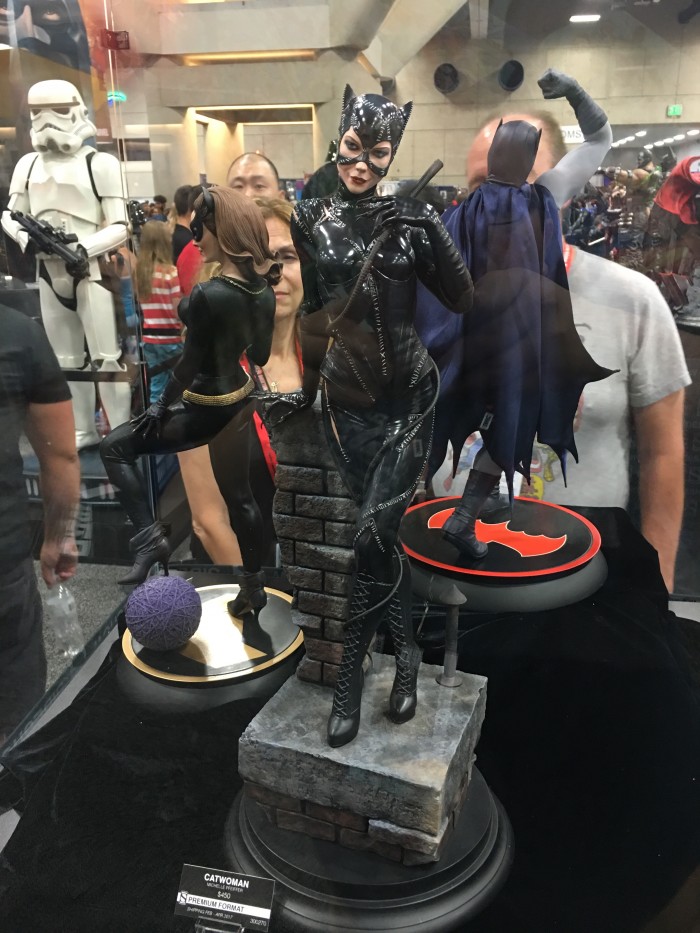 Catwoman from Batman Returns
Michelle Pfeiffer gets immortalized by Sideshow Collectibles as what is arguably the creepiest version of Catwoman that any iteration of Batman has ever seen. Straight from Tim Burton's Batman Returns, this Catwoman has the shiny, sleek latex suit all around her with occasional stitching gaps adding some authenticity to the creation.
Back to the Future Part II
Following the Hot Toys release of the massive DeLorean time machine from Back to the Future, the upgraded version of the iconic vehicle is getting the same treatment. Complete with Mr. Fusion, light-up accents and wheels that flip up for flying mode, it's a gorgeous recreation of the time machine.
In addition, new versions of Marty McFly and Doc Brown have been created to go along with it, each with their own incredible accessories like the Mattel hoverboard that Marty snags in Hill Valley town square and the briefcase of money from different time periods that Doc carries around with him for emergencies. There's even a little USA Today from 2015.
Suicide Squad
You won't find the whole squad on display at the Hot Toys booth, but you will find a few different versions of The Joker. Plus there's Harley Quinn with a big load of accessories, including a awesome little jacket, and Deadpool with plenty of weapons. However, the most intriguing figure in the Suicide Squad line-up was a figure labeled "Impostor Batman."
As you can see, this figure is painted with accents featuring the colors of The Joker, including "ha ha ha" painted on his body, along with "damaged" and more. You can also see that the face under the mask has the villain's trademark mouth bling. Could this be some kind of Suicide Squad spoiler? Does The Joker dress up like a crazy version of Batman at some point? That would certainly be interesting. This figure is specifically branded with the Suicide Squad movie logo to, so there must be something to it that we don't know about yet.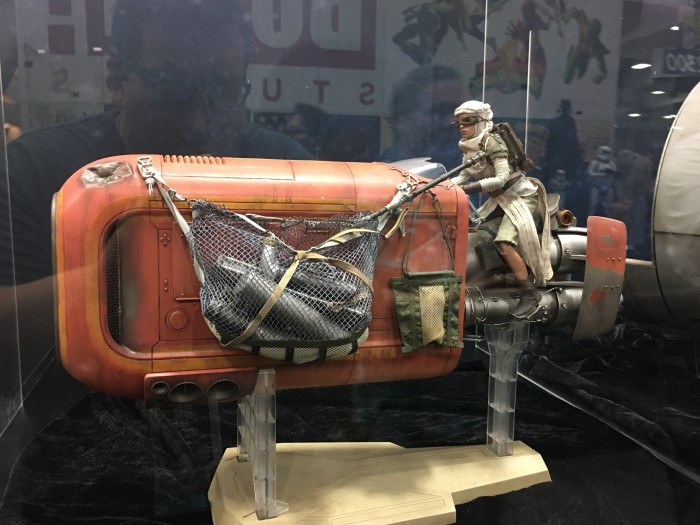 Rey's Speeder
Honestly, we're not entirely sure if this is new, but we couldn't remember ever seeing a Hot Toys version of Rey's trademark vehicle from her home planet. It's a super detailed recreation of the junky speeder, complete with a scavenger Rey figure that has all the accessories you would want her to come with, except her little buddy BB-8.
TIE Interceptor
This is a creation from Hot Toys that will only ever be seen on display. There's a sign in the case that explicitly says that this is not for sale. But damn, is it a Marvel to look at. The TIE Interceptor is insanely detailed, massive and has a TIE Fighter pilot sitting right inside of it. I'm not surprised it won't be for sale because I can't imagine how much it would cost or where anyone would put it.
Batmobile from Batman v Superman: Dawn of Justice
Here's something else we've seen before, but looks even more impressive up close and personal. It's the new Batmobile from Batman v Superman: Dawn of Justice, and yes, of course it's big enough to have a figure of Ben Affleck as Batman sit inside it, only for Superman to mess it up with his stupid indestructible body.
Millennium Falcon Cockpit, The Force Awakens Style
This is an item that was on display last year at the show floor, but we wanted to highlight it here because they decided to display it this time with Rey, Finn and Chewbacca in the cockpit this time. It's bittersweet, because if Rey and Finn were battle damaged, this is a scene we would have seen following the death of Han Solo on Starkiller Base. Speaking of which...
Kylo Ren
A new Kylo Ren is coming from Hot Toys, and it's a stunning recreation of Adam Driver as the new Star Wars villain. With a lightsaber blade made to look like the sparking, unstable weapon it is and a little burnt Darth Vader helmet (which I would purchase by itself), this is a magnificent figure. It just needs a giant Snoke hologram to talk to.