Go Behind-The-Scenes Of 'Kubo And The Two Strings' With This Astonishing Featurette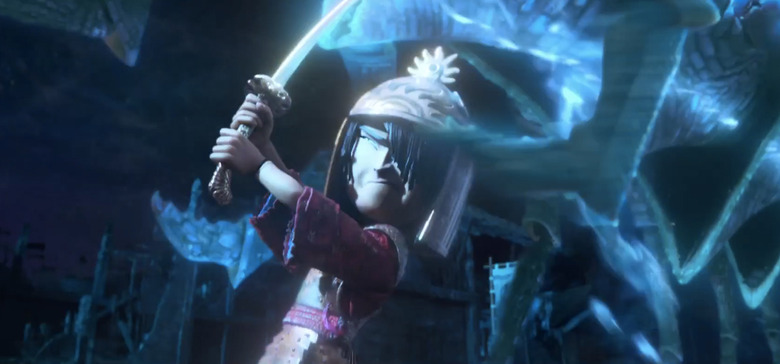 The magic of stop-motion animation is that it still conjures a "How the hell did they do that?" reaction. I've enjoyed my fair share of films from Pixar, Disney Animation, and DreamWorks Animation, but the filmmaking process on CG-animated films doesn't fill me with awe and wonder. At the end of the day, most modern animation is all about talented people sitting around computers and watching files render for hours on end. The end result can be impressive, but it doesn't exactly light a fire under my imagination.
So bless Laika, the production company that has spent the past decade making stop-motion movies that dazzle the senses while telling offbeat and unique stories that push the boundaries of the medium. And as much as I have enjoyed their finished work, I often find myself enjoying behind-the-scenes looks at their process even more. This new featurette on the making of Kubo and the Two Strings kind of blows my mind.
Stop-motion has always been a time-consuming and difficult process, but it becomes doubly so when you want to make a sweeping samurai epic full of action scenes, monsters, and complex visual effects. The video below is full of stunning footage from director (and Laika president and CEO) Travis Knight's new movie, but the real treat is looking outside of the frame. We know from the various trailers that Kubo and the Two Strings looks gorgeous, but it's another thing altogether to actually see massive creature puppets looming over crew members and to watch animators experiment with ways to create water effects using practical objects. The featurette even offers a look at how Laika blends traditional animation with modern tools of the trade, using computer technology to help expand their hand-crafted worlds. It's a fascinating combination of the old and the new.
Laika is three-for-three after Coraline, ParaNorman, and The Boxtrolls, so I remain hopeful that Kubo and the Two Strings will continue that trend. We'll find out when the film opens on August 19, 2016. Here's the full synopsis:
An epic action-adventure from acclaimed animation studio LAIKA. Clever, kindhearted Kubo (voiced by Art Parkinson of "Game of Thrones") ekes out a humble living, telling stories to the people of his seaside town including Hosato (George Takei), Hashi (Cary-Hiroyuki Tagawa), and Kameyo (Academy Award nominee Brenda Vaccaro). But his relatively quiet existence is shattered when he accidentally summons a spirit from his past which storms down from the heavens to enforce an age-old vendetta. Now on the run, Kubo joins forces with Monkey (Academy Award winner Charlize Theron) and Beetle (Academy Award winner Matthew McConaughey), and sets out on a thrilling quest to save his family and solve the mystery of his fallen father, the greatest samurai warrior the world has ever known. With the help of his shamisen – a magical musical instrument – Kubo must battle gods and monsters, including the vengeful Moon King (Academy Award nominee Ralph Fiennes) and the evil twin Sisters (Academy Award nominee Rooney Mara), to unlock the secret of his legacy, reunite his family, and fulfill his heroic destiny.