'Narcos' Season 2 Trailer: Pablo Escobar Is A Little More Wanted Than Usual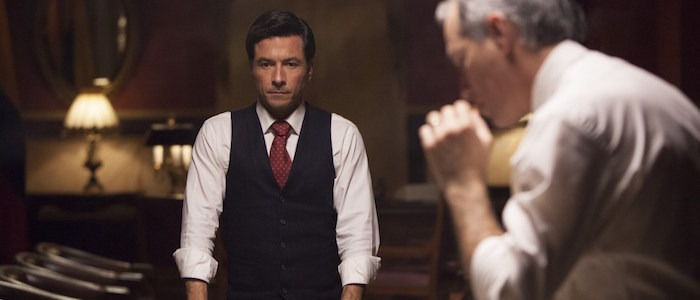 One time I made a joke about having never met a single person in real life who has actually watched Netflix's crime series Narcos and I instantly regretted it. Narcos fans immediately began to emerge from the woodwork to let me know how much they enjoy the show and how I should give it a chance and so on and so forth. And since I'm fascinated by the drug war and would very much like more Pedro Pascal in my life, I think I may take them up on that suggestion.
Meanwhile, the Narcos season 2 trailer has arrived and while I'm sure it'll get the dedicated fans properly excited, this is the exact kind of preview that helps pique my interest.
The second season of Narcos continues telling the (very true and very horrifying) story of notorious drug kingpin Pablo Escobar (Wagner Moura) and the DEA agents who set out to capture him. The new episodes find Escobar on the run from the authorities after narrowly escaping arrest, fighting to keep his criminal empire together while fleeing the increasingly determined Steve Murphy and Javier Peña (played by Boyd Holbrook and Pascal). While I haven't watched Narcos, I can say that the portion of Escobar's life covered by these new episodes should make for genuinely enthralling television.
If you do happen to know what went down with Escobar in reality, you may be wondering how much longer the show could possibly go on. There's no clear answer to how or if Netflix plans to extend Narcos past the Escobar story, but producer Eric Newman has made it clear that the show in its current form was always designed to have a specific ending. If there is a season three, it may have to just run with another main plot entirely.
All ten episodes of Narcos season 2 will drop arrive on Netflix on Friday, September 2, 2016. So start gathering whatever substances (legal or otherwise) that you require for a proper binge watch of the whole thing. Here's the official synopsis:
Narcos chronicles the gripping real-life stories of the infamous drug kingpins of the late 1980s and the corroborative efforts of law enforcement to meet them head on in brutal, bloody conflict. Its gritty storytelling details the many, often-conflicting forces – legal, political, police, military and civilian – that clash in the effort to control cocaine, one of the world's most valuable commodities.
The series stars Wagner Moura (Elite Squad, Elysium) as Pablo Escobar alongside Boyd Holbrook (Gone Girl) and Pedro Pascal (Game of Thrones) as real-life DEA agents Steve Murphy and Javier Peña.
José Padilha (Elite Squad, RoboCop) and Eric Newman (Children of Men) serve as executive producers of the series. Narcos is produced by Gaumont International Television for Netflix.