Hero Complex Gallery Teases New Star Trek: 50 Artists 50 Years Gallery Show Art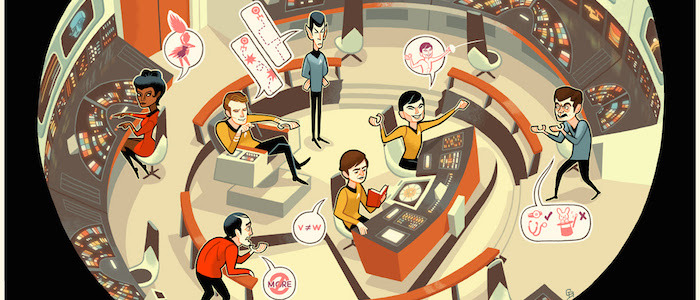 It's a good year to be a Star Trek fan...and if you're not a Star Trek fan, it's good year to start. It seems like everyone is celebrating the franchise's 50th anniversary in style: Star Trek Beyond is in theaters this weekend, Bryan Fuller is busy developing a new TV show for an early 2017 bow, and anyone with a drop of creative juice in their system is paying tribute to the greatest science series of all time.
The latest piece of cool Star Trek news involves the Hero Complex Gallery, who have unveiled their contribution to the new Star Trek: 50 Artists 50 Years exhibition. With art celebrating the original series, several of the films, and even the original Star Trek pilot "The Cage," there's a little something for Trek fans of all tastes.
As the name of the exhibition implies, Star Trek: 50 Artists 50 Years is a gallery show collecting fifty pieces of 2D and 3D art from illustrators, painters, designers, photographers, and sculptors from around the world, each of them paying tribute to a corner of the massive Star Trek universe. You could probably spend too much time perusing the full gallery of artwork that is currently online. Some of the work on display is nothing short of stunning.
However, we're taking a specific look at the work commissioned by Los Angeles' Hero Complex Gallery, which specializes in art centered around entertainment and pop culture. These four pieces, which can be viewed in the gallery below, are all pretty cool in their own way.
First up is "Revenge is a Dish That is Best Served Cold" by Patrick Connan, which manages to squeeze every noteworthy character from Star Trek II: The Wrath of Khan into one image. This print will be available in its regular format as well as a foil variant.
Next is "Star Trek Inception: The Cage" by Paul Shipper, which pays tribute to the original Star Trek pilot that was rejected and later cannibalized for the season one episode "The Menagerie." Look upon Leonard Nimoy's just-different-enough-to-be-distracting Spock and Jeffrey Hunter's Captain Christopher Pike and imagine the alternate universe where this went forward.
Then there's Dan Mumford's "First Contact," which depicts Captain Picard (or rather Locutus), the Borg Queen, and Data in a creepy style that recalls the more grotesque elements of Star Trek: First Contact.
And finally, there's my personal favorite of the bunch: "The Bridge" by Glen Brogan, which is colorful and cute and captures the whimsy of Star Trek, an element often left by the wayside by artists paying tribute.
The Star Trek: 50 Artists 50 Years exhibition opens today, July 21, 2016, at the Michael J. Wolf Fine Arts gallery in San Diego, California and runs through Sunday, July 24, 2016. If you're at Comic-Con and have some time to kill, you know what to do.