'Suicide Squad' Clip: Harley Takes An Eventful Elevator Ride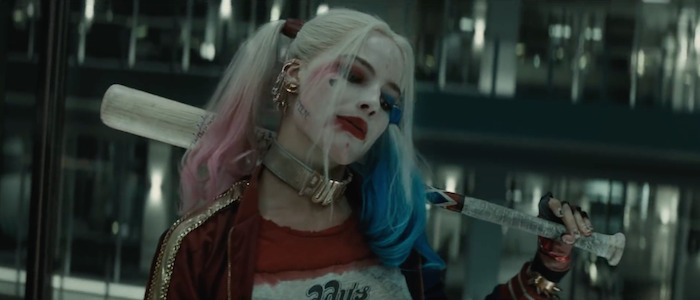 Suicide Squad opens in just a few weeks and the best thing I can say about the movie's marketing is that I have no idea what to expect. The trailers have been offbeat and impressive. The character designs are funky and completely out of left field. It looks hugely different in scale and intent from Batman v Superman: Dawn of Justice, which suggests a burgeoning DC movie universe that won't be afraid to try different things. There's a lot of stuff here that has me excited, which does a fine job of tempering the aspects that I'm dreading.
Above all, I'm most curious to see Margot Robbie as Harley Quinn, the Joker's psychopathic girlfriend who finds herself sprung from prison and forcibly recruited into a special ops team composed entirely of super villains. A new clip from the film shows her in action and let's just say that she can give Captain America a run for his money in the "fighting bad guys in an elevator" department.
The clip is free of context, so no, I also have no idea what that weird monster Harley is fighting is supposed to be (although I floated some ideas in my trailer breakdowns). I can say that Robbie is a natural on camera and one of the few actors to arrive in the past few years that feels like an instant movie star. Harley could be a defining role for Robbie, who has already proven that she can share the screen with the likes of Will Smith and Leonardo DiCaprio without being overshadowed. We can quibble about the changes to the character's wardrobe all day (her comic book counterpart shows far less skin), but she's inspired casting for a character who always walks a fine line between lovable and terrifying.
Here's the official synopsis for the film, just in case you've somehow managed to avoid every trailer so far:
It feels good to be bad... Assemble a team of the world's most dangerous, incarcerated Super Villains, provide them with the most powerful arsenal at the government's disposal, and send them off on a mission to defeat an enigmatic, insuperable entity. U.S. intelligence officer Amanda Waller has determined only a secretly convened group of disparate, despicable individuals with next to nothing to lose will do. However, once they realize they weren't picked to succeed but chosen for their patent culpability when they inevitably fail, will the Suicide Squad resolve to die trying, or decide it's every man for himself?
Suicide Squad is directed by David Ayer and opens on August 5, 2016.