'The LEGO Batman Movie' Reveals Michael Cera's Robin And Zack Galifianakis' Joker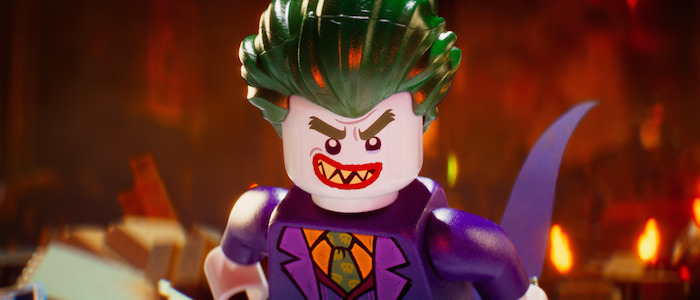 While I remain very interested in where Ben Affleck takes the Caped Crusader in his upcoming solo Batman movie, I'm starting to think my heart lies with Will Arnett's LEGO Batman. First introduced as the best part (which is saying a great deal) of the against-all-odds remarkable The LEGO Movie, the character is getting his own spin-off movie and the two teaser trailers released so far have left quite an impression on me. Blame it on my love of the 1960s Batman series and Adam West's brilliant, deadpan take on the character, but this is the Batman I want to see.
We expect to learn a lot more about The LEGO Batman Movie at Comic-Con this week, but in the meantime, we can take a look at a few newly released details about the film as well as our first look at the Joker (voiced by Zack Galifianakis) and Robin the Boy Wonder (voiced by Michael Cera).
The new images come come to us courtesy of USA Today, who also have a few quotes about the movie from director Chris McKay, the editor and co-director of The LEGO Movie. In describing Galifianakis' Joker, he seemingly offers the first actual plot details from the film:
The Joker sees himself on the same level as Batman, a peer, at the top of the game. But Batman says that's not the case, which sends Joker into a spiral trying to prove to Batman that he is indeed the greatest enemy.
Maybe I'm am easy sell, but the thought of Arnett's self-absorbed Batman entering an escalating battle of wits with his arch-nemesis because he won't acknowledge him as such sounds hilarious...and also, strangely enough, totally in-character for the comic book version of the Joker. As you can see in the images below, this looks to be a very traditional riff on the Clown Prince of Crime. He's just rendered in mini-fig form.
McKay also reveals that Cera's Robin enters Batman's life when Bruce Wayne accidentally adopts him at a charity auction. Soon enough, he's raided Bruce's closet, made himself a costume, and has started hindering Batman's solo and lonely existence. McKay emphasizes the character's positivity in the face of Batman's over-the-top brooding:
Robin is a super-positive kid who always sees the glass as half full. Really, at the end of the day, he just wants a hug. Michael brings the sweetness and honesty.
As you can see in the images below, this Robin has a cape that sparkles a little too much and big green goggles that transform his eyes into something you'd expect to see on a cute puppy in a Disney movie.
The LEGO Batman Movie is set to arrive in theaters on February 10, 2017.