One Lucky Fan Received A DeLorean Hot Tub Time Machine For The Ultimate '80s Party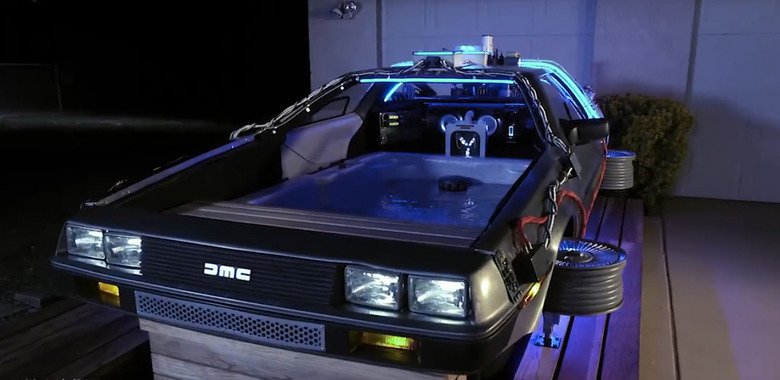 The folks over at Super-Fan Builds have created some truly remarkable things for the most hardcore of fans. Some of their creations include a real-life version of the double decker couch from The LEGO Movie and an Iron Man Hulkbuster armor high chair. Now they've combined two different time machines into one for the ultimate 80s movie mash-up.
Arguably the most iconic time machine in cinema history is the DeLorean from Back to the Future. Meanwhile, perhaps the most ridiculous is the titular device from Hot Tub Time Machine. And the folks at Super-Fan Builds decided to combine the two into a DeLorean hot tub time machine, and it's just as glorious as you'd imagine.
Doc, are you telling me you built a hot tub...out of a DeLorean? Whoa, this is heavy. It's literally heavy because of all the gallons of water that fit inside of it. The DeLorean hot tub time machine was built from an actual hot tub and a real DeLorean chassis that comes with the functional gull wing doors.
There are some aesthetic differences between the DeLorean hot tub time machine and the actual car from the film, but that's to be expected when you're turning a car into a working hot tub. Fans will be happy to see that a flux capacitor and Mr. Fusion were both included in the design, but I think they missed out by not figuring out how to make it actually fly, or at least go 88 mph so we can see some serious shit.