'xXx: Return Of Xander Cage' Trailer Promises "Guns, Girls, Global Domination"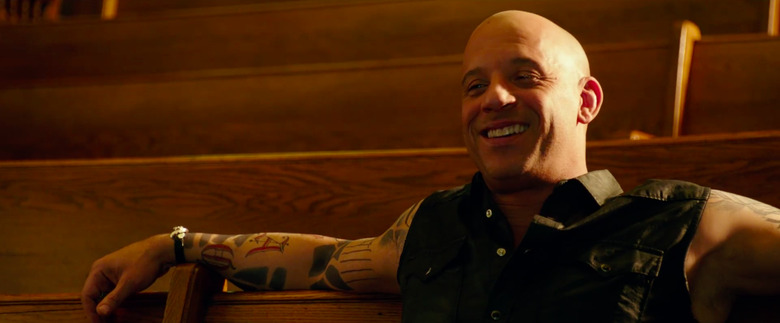 I'd say "I can't believe they made another xXx movie," but in a year where we've gotten sequels for everything from Independence Day: Resurgence to Snow White and the Huntsman, of freaking course they made another xXx movie. After all, Vin Diesel is bigger now than he's ever been, but even he can't make another Fast and the Furious movie every year. Why not squeeze him into a different action-adventure in the meantime?
Directed by D.J. Caruso, xXx: Return of Xander Cage brings the extreme-sports-enthusiast-turned-spy out of retirement for a dangerous new assignment. Samuel L. Jackson is back as his handler, Augustus Gibbons, and the supporting cast includes Ruby Rose, Nina Dobrev, Donnie Yen, Tony Jaa, and Kris Wu. Watch the first xXx: Return of Xander Cage trailer below. 
Vin Diesel shared the first xXx Return of Xander Cage trailer on (where else?) his Facebook page.
xXx has aged surprisingly well, considering how so-very-early-aughts the whole "extreme sports" premise was. It probably helps that instead of going on about "extreme sports," the trailer describes these feats in more poetic terms: "We need someone who can walk into a tornado and come out the other side like it was a damn gentle breeze." Or if that's too abstract, here's Samuel L. Jackson to reduce the concept to terms that any idiot can understand: "Let me simplify it for you. Kick some ass, try to look dope while you're doing it."
Essentially, xXx: Return of Xander Cage looks like a latter-day Fast and the Furious movie, with more questionable tattoos and fewer expensive sports cars. There's the same emphasis on jaw-dropping (if highly implausible) stunts, performed by a similarly diverse ensemble of athletic, photogenic actors. That's probably not so surprising considering the original xXx and the original The Fast and the Furious share a lot of DNA to begin with. Both movies were directed by Rob Cohen and starred Vin Diesel, and opened just one year apart. Now, who wants to revive Cohen's other early '00s feature, The Skulls?
xXx: Return of Xander Cage opens January 20, 2017.