Cool Stuff: Mondo's Comic Con 2016 Exclusives Include 'Star Wars' And Marvel Prints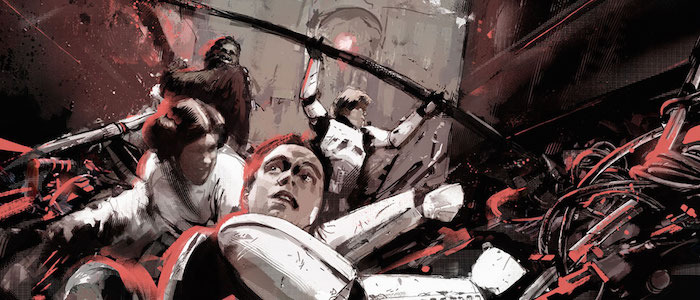 If the bylines seem a little inconsistent on /Film over the next few days, that's because Peter Sciretta, Angie Han, Ethan Anderton, and Jack Giroux are all en route to San Diego Comic-Con, where they'll be covering every must-see panel and event firsthand and reporting their findings straight back to you. Maybe you're also heading there. If so, have fun! If not, welcome to the club! We can attempt to enjoy the festivities from a safe distance.
Although things don't really kick off until Thursday, let's get things started with a look at some of the cool stuff Mondo will have for sale at their booth this year. If you're in the market for posters and vinyl centered around Star Wars, the Marvel universe, and Pixar characters, you're in luck.
Let's star with this trio of Star Wars posters, which offer a little something for everyone. The first poster, titled "Into the Garbage Chute, Flyboy," is from the always brilliant Jock and it depicts one of the most iconic scenes from the original 1977 Star Wars in his slightly gritty and dynamic style. The other two are the latest entries in artist Mike Mitchell's ever-expanding series of Star Wars character portraits, depicting Admiral Ackbar and 21B in profile.
Now, let's shift our focus to Mondo's Marvel superhero offerings, beginning with Ken Taylor's Ant-Man poster. The first one in the line-up is the variant, which will be available at Comic-Con. The regular poster, the second one in the gallery, will be available for online purchase at a later date. Next up is Rory Kurtz's poster for Captain America: The First Avenger, which plants Steve Rogers in the middle of a destroyed European town, creating an image that is quintessentially Marvel and quintessentially World War II. The two other Captain America posters are by Stan and Vince, with the variant (Cap in his original makeshift uniform) being available at Comic-Con while the other will be for sale online. And finally, there's a new set of six X-Men pins designed by Tom Whalen.
And that brings us to the vinyl offerings. The highlight is a quartet of Inside Out singles featuring Michael Giacchino's score, with each cover from Phantom City Creative depicting one of the film's five lead characters in a parody of an iconic album cover. For more niche tastes, there's the vinyl soundtrack for the Cartoon Network miniseries Over the Garden Wall, which features art by Sam Wolfe Connelly.
If you'll be attending Comic-Con, the Mondo booth is #835. Following them on Twitter to receive announcements when specific items are going on sale.