Kenan Thompson Wants To Revive 'Kenan & Kel' For More Nostalgia From Nickelodeon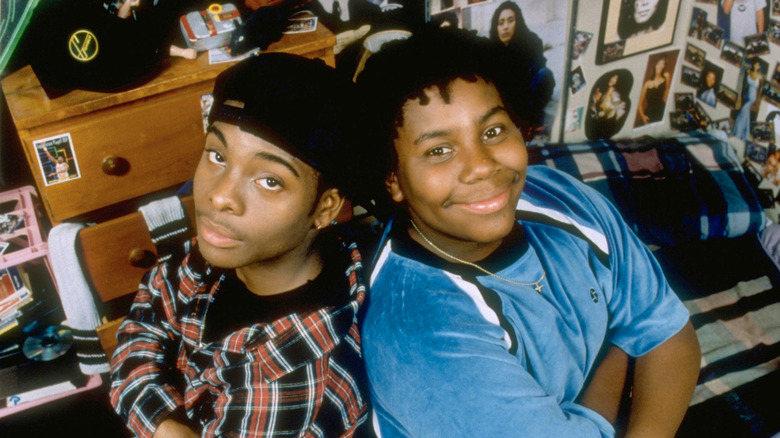 Nickelodeon has been basking in nostalgia recently. After launching a programming block called The Splat to bring back a bunch of their popular shows from the 1990s, news surfaced of a NickToons movie as well as TV movies for Legends of the Hidden Temple and Hey Arnold!. Now one of the Nickelodeon's biggest child stars from 20 years ago has expressed interest in reviving another popular show from the network.
Kenan Thompson currently has a comfortable career as one of the regular cast members on Saturday Night Live, and he occasionally pops up in movies such as They Came Together and Snakes on a Plane. More recently, he's become the spokesperson for Fandango as a character named Miles Mouvay. But there might be a chance we'll see Kenan Thompson reteam with his childhood friend and co-star Kel Mitchell for a Kenan & Kel reunion.
For those who weren't children of the 90s or just didn't have cable, Kenan & Kel was a sitcom following the misadventures of best friends played by Kenan Thompson and Kel Mitchell. The show followed their success as sketch comedy stars on the kids equivalent of SNL, a show called All That, and it ended up lasting four seasons for a total of 62 episodes. It was a staple of Saturday night programming on Nickelodeon's block known as Snick, and now Entertainment Weekly has an entire retrospective story looking back at Kenan & Kel since this year mark's the show's 20th anniversary.
While reminiscing about the show, Kenan Thompson was asked if he had any interest in returning to the program that gave him the kind of career that many adults never get a chance at. Surprisingly, Thompson is absolutely open to go back to the well:
"I mean, we might as well; it couldn't hurt. If people want it then they should have it. I miss and love those guys, it was awesome times. I wish we could just pick up and do Kenan & Kel: The Grown-Up Years, getting everyone back working together. I feel like it would be an awesome moment for everybody."
With all the love there has been for old Nickelodeon shows lately, there's likely plenty of people who would love to see Kenan & Kel have at least one reunion episode. So far, the closest we've gotten is a sketch from The Tonight Show with Jimmy Fallon that brought Kenan Thompson and Kel Mitchell back for a new Good Burger sketch from All That, and a Fandango commercial that teamed the two up again. Here it is in case you missed it:
That's a lot of orange. Speaking of which, even though it happens all the time, Kel Mitchell is totally cool with you asking him if he loves orange soda:
"I don't think any of us knew how big that was going to be, even today I still get that. When my wife and I go out to eat, it doesn't matter what type of restaurant we're at, whether it's a five-star restaurant or a burger shack, people go crazy if I don't get an orange soda. And they're like, 'Oh, what are you going to drink? Orange soda?' And they just crack up, but I enjoy it. I'm happy that people enjoy the show and are still drinking orange soda."
We're not sure why there's no word from Kel Mitchell as to whether or not he wants to do a Kenan & Kel reunion (he has a role on Nickelodeon's show Game Shakers now), but if he were to ask any of the kids of the 1990s out there if they want to see it happen, they would undoubtedly say, "I do, I do, I do, I do-ooooh." So keep your fingers crossed that Nickeoldeon can make it happen.
Be sure to read the rest of Entertainment Weekly's great retrospective piece on Kenan & Kel right here.