VOTD: Michael J. Fox Rocks Johnny B. Goode Again With Chris Martin From Coldplay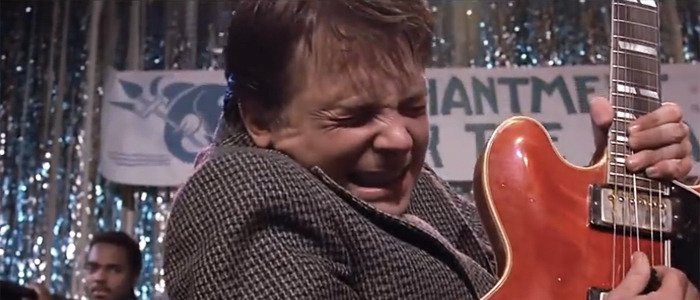 The British alternative rock group Coldplay is one of those bands that people either love or hate. However, even if you're one of the people who just can't stand the vocal stylings of frontman Chris Martin and the sounds the rest of the band plays, I think you're going to love them for a little bit after to see a video recorded at a recent concert.
Chris Martin has a son named Moses who is 10 years old. And while the lead singer is out on tour, his son had just one request, and that was for him to play a song from their favorite movie, Back to the Future. Not only did Chris Martin make his son's dreams come true, but he came through in a way that makes all other fathers look bad by having Michael J. Fox come out and play "Johnny B. Goode," just like he did in the movie.
You can watch the Michael J Fox and Coldplay Back to the Future duet after the jump.
At the very least, knowing Chris Martin loves Back to the Future should soften some of the haters on him, and you might even like hearing the band play "Earth Angel," which Marty McFly plays with Marvin Berry and the Starlighters. If you want to get to the good stuff, just push ahead to the 2:30 mark to see Michael J. Fox strut onto the stage playing the guitar along with the band. But the best part comes around 4:50 when Fox stays on stage to play Johnny B. Goode.
Thanks to HitFix for bringing this to our attention, who also point out an interesting bit of trivia. The guitar Fox is playing in this video is a a Gibson Les Paul with a sunburst finish, and that's the guitar the art department originally wanted him to play in Back to the Future. But for some reason, they ended up using a red Gibson ES-345. You can read more about how that scene came together and other behinds the scenes tidbits in a full article about the sequence right here.