'The Girl On The Train' Trailer: Emily Blunt May Or May Not Have Killed Someone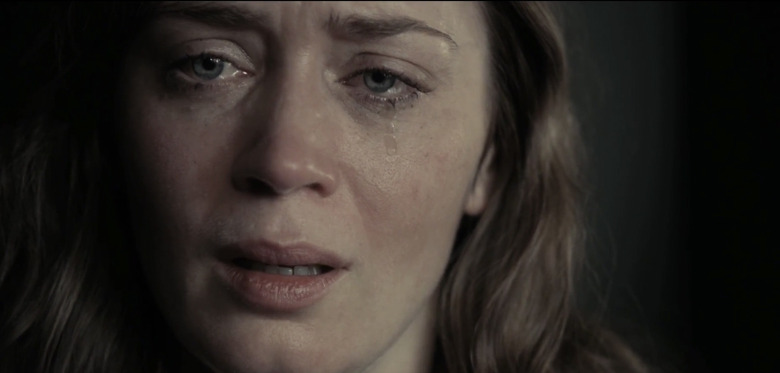 Before Gone Girl arrived not too long ago, it had been awhile since there was a juicy, quality thriller of that kind. Now The Help director Tate Taylor is adding another entry in the revitalized field of movies geared towards adults with The Girl on the Train, and it looks like the kind of movie that will keep you guessing right up to the very end.
Emily Blunt plays Rachel Watson, a recently divorced woman who attempts to help the police find a missing woman after witnessing certain activities that she believes may help find her. However, Rachel isn't the most stable, emotionally or mentally, so when the missing woman ends up sharing a connection with her ex-husband, Rachel may also turn out to be a suspect.
Watch The Girl on the Train trailer after the jump.
In addition to being an intriguing mystery, this also looks like a rather steamy thriller full of intrigue and infidelity. Of course, with a lead character whose perspective may not be the most reliable recollection of events, there's no telling what's real and who is telling the truth.
The Girl on the Train looks much different from Tate Taylor's work on The Help and the James Brown biopic Get On Up, proving that he can bring suspense and mystery to the table as well. In addition to Emily Blunt in the lead role, Taylor also has a great supporting cast at his disposal that includes Haley Bennett, Luke Evans, Justin Theroux, Edgar Ramírez, Rebecca Ferguson, Laura Prepon and Allison Janney.
The Girl on the Train is the story of Rachel Watson's life post-divorce. Every day, she takes the train in to work in London, and every day the train passes by her old house. The house she lived in with her husband, who still lives there, with his new wife and child. As she attempts to not focus on her pain, she starts watching a couple a few houses down — Megan and Scott Hipwell. She creates a wonderful dream life for them in her head, about how they are a perfect happy family. And then one day, as the train passes, she sees something shocking, filling her with rage. The next day, she wakes up with a horrible hangover, various wounds and bruises, and no memory of the night before. She has only a feeling: something bad happened. Then come the TV reports: Megan Hipwell is missing. Rachel becomes invested in the case and trying to find out what happened to Megan, where she is, and what exactly she herself was up to that same night Megan went missing.
The Girl on the Train arrives in theaters on October 7.