New 'Star Trek Beyond' TV Spot Reveals A Spoiler-Ish Detail About Idris Elba's Villain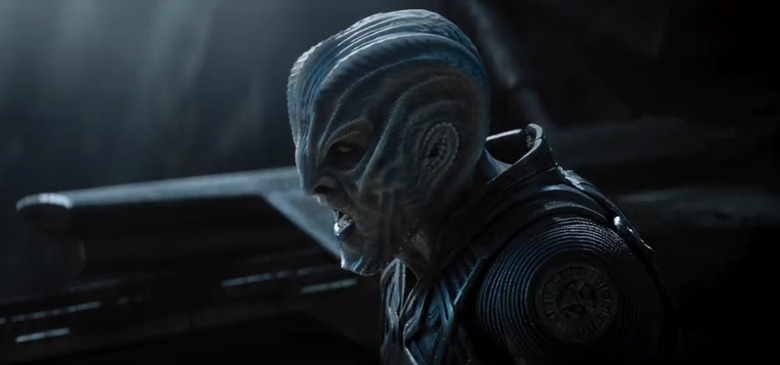 In just a couple days, fans will get to see Star Trek Beyond in theaters. Some will be lucky enough to attend the premiere at Comic-Con on Wednesday night while others can see it if they're able to check out the Star Trek marathon at AMC Theatres that same day. Otherwise, Thursday night will bring the first nationwide screenings of the movie so we can all see if the early buzz on the sequel is right on the money.
In the meantime, a new Star Trek Beyond TV spot has arrived and it reveals an interesting detail about the villain played by Idris Elba. However, if you're looking to go into the sequel knowing as little as possible, this could be considered a spoiler, so we've saved this reveal for after the jump.
That's right, the villain played by Idris Elba appears to have been a human at one point. Krall was apparently on some planet that was abandoned or ignored by the Federation, so maybe something on the planet caused him to mutate into the alien being that we've seen in the previous trailers and photos. So now we know why Elba's character  has a grudge against the Federation, and why he's so keen on destroying the USS Enterprise and attempting to kill the entire crew.
Perhaps the most exciting thing about this new Star Trek sequel for fans is that it finally gets the action away from Earth and we get to venture deeper into space. Star Trek has always been about space exploration, boldly going where no man has gone before, so it's great to see them finally venturing far away from our home planet.
If for some reason you're still not convinced that Star Trek Beyond is worth your time, watch the most recent trailer, featuring a signature track from Rihanna, who has basically crafted a James Bond song for the movie. Hopefully it accompanies a stylish credits sequence at some point. In addition, a quick new trailer arrived on the official Star Trek Facebook page today with some snippets of new footage.
"Star Trek Beyond," the highly anticipated next installment in the globally popular Star Trek franchise, created by Gene Roddenberry and reintroduced by J.J. Abrams in 2009, returns with director Justin Lin ("The Fast and the Furious" franchise) at the helm of this epic voyage of the U.S.S. Enterprise and her intrepid crew. In "Beyond," the Enterprise crew explores the furthest reaches of uncharted space, where they encounter a mysterious new enemy who puts them and everything the Federation stands for to the test.
Star Trek Beyond opens in theaters July 22nd.