'Star Wars: Rogue One' Will Not Have An Opening Crawl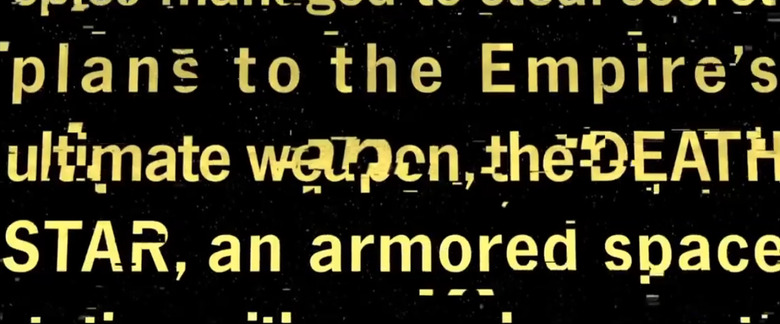 UPDATE: In a recent interview, Kathleen Kennedy confirmed to Variety that Rogue One won't have an opening crawl, saying, "We felt that's so indicative of what those saga films are. Initially, we probably will begin the film in a way that is traditional, with just the title."
So will we get the traditional Star Wars logo floating back into space accompanied by the iconic John Williams theme and followed by the Rogue One title? Or will the initial title say Rogue One: A Star Wars Story? This will likely be something we won't find out until the movie debuts next month. Our original story from July 18, 2016 follows below.
There's been plenty of buzz about Rogue One: A Star Wars Story over the past month. Plenty of new details and photos were revealed in a big Entertainment Weekly spread (including confirmation of Darth Vader's return), such as the reveal of Forest Whitaker starring in the film as a character borrowed from the Clone Wars animated series, clarification on the reshoots that were taking place this summer, and much more. Plus, this past weekend brought a stunning new teaser poster and a revealing sizzle reel showing tons of behind the scenes footage. You can find out much more in our recap of the panel previewing the film.
Now with Star Wars Celebration over, we have one more update from the convention this past weekend, and it's something that is likely to rile up some fans. Despite the fact that Kathleen Kennedy was previously unsure if Rogue One: A Star Wars Story would have an opening crawl like the rest of the films in the Star Wars saga, she seemed to have a slightly more definitive answer at Star Wars Celebration.
Here's what Kathleen Kennedy previously said about the potential for having an opening crawl in Rogue One:
"We talk about that all the time. It's something that we're right in the midst of discussing even now, so I don't want to say definitively what we're doing. The crawl and some of those elements live so specifically within the 'saga' films that we are having a lot of discussion about what will define the [stand-alone] Star Wars Stories separate and apart from the saga films. So we're right in the middle of talking about that."
Speaking with Entertainment Tonight on Friday after the panel at Star Wars Celebration, here's what Kennedy had to say about the potential for a Rogue One opening crawl:
"You know, we're in the midst of talking about it, but I don't think these films will have an opening crawl. I think that's what we kind of telegraphed at the beginning of the event today."
If you didn't catch the Rogue One panel live stream on Friday, here's what she's talking about when she says what was "kind of telegraphed" at the beginning of the panel (beginning about 12 seconds into the video):
Pulling out from the opening crawl to give us a perspective on the floating text that we hadn't seen before was a nice touch to open the show, but I never stopped to think that this was a way of sending a message that these films will stray from tradition with regards to the opening crawl.
Director Gareth Edwards wasn't as forthcoming about whether or not a decision had been made, saying:
"I think basically there's a lot of things that I probably can't talk about, is probably the safest way to answer that. The idea is this film is supposed to be different than the saga films...the whole crawl of it all — it's funny people are fascinated on that."
Our own Peter Sciretta has already laid out why he thinks the standalone Star Wars stories should have an opening crawl like the milestone chapters of the primary Star Wars films, and it's hard to disagree. While you may not be confused about when Rogue One takes place, there are plenty who aren't as in tune with what's going on in the Star Wars world and may need to be enlightened. Surely the marketing will help with that leading up to the release, but the opening crawls are a nice way to set the stage for when our story begins and what's been going on leading up to the story we're about to see.
But perhaps instead of having a traditional opening crawl, there's a way for Lucasfilm to play with expectations and do something interesting like they did with the crawl at the beginning of the Rogue One panel this past weekend.
How would you feel if Rogue One: A Star Wars Story had no opening crawl?