'Boo! A Madea Halloween' Trailer: Tyler Perry Gets A Call From Jigsaw, Punches Some Clowns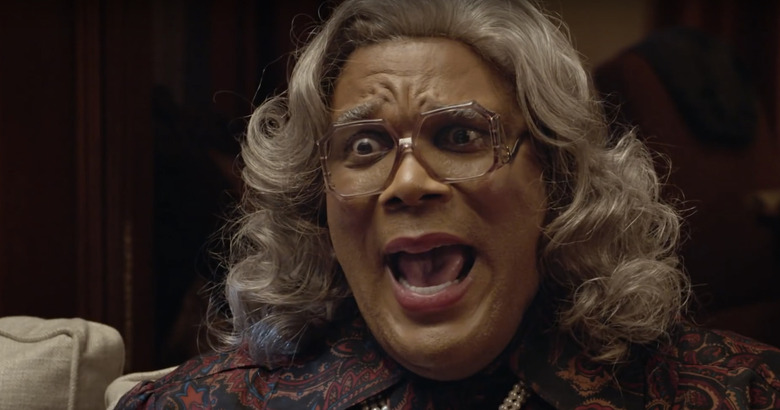 October is the prime month for horror movies, and this year we'll be getting terror on a number of different levels thanks to Tyler Perry. The writer, director, producer and actor is getting back in drag for Boo! A Madea Halloween, a horror comedy that puts the sassy old woman in the middle of some horror movie shenanigans.
This time Madea is commissioned by a family friend (also played by Tyler Perry) to keep an eye on the house and his daughter while he goes out of town to make sure she doesn't go to a huge Halloween party happening nearby. But in addition to keeping an eye on this young girl, Madea also has to contend with creepy clowns, zombies and apparently even Jigsaw from the Saw franchise. Get a taste of the shenanigans in the Boo! A Madea Halloween trailer below.
Having never seen a Tyler Perry movie featuring Madea before, I was not aware that Tyler Perry also occasionally played multiple roles in these movies. In addition to Madea, Perry also plays a straight man character named Brian and an old man named Joe, solidifying that these movies are basically his attempts at having his own Nutty Professor franchise, even though he's not playing nearly as many characters.
But perhaps the most surprising revelation in this movie is that the Madea universe exists in the same one as the Saw franchise. That's definitely Jigsaw we hear in the trailer, though he's making a phone call which is more like Ghost Face from Scream. However, I'm hoping with every fiber of my being that we get to see Madea ensnared in one of Jigsaw's deadly puzzles and she has to break out of it.
Otherwise, there are some creepy clowns, a horde of zombies, and some disrespectful teens. Madea deals with the latter by flashing her old boobs at them. Just thinking about Tyler Perry with wrinkly breasts is pretty terrifying, so mission accomplished. Unfortunately, this doesn't look nearly as fun as I had anticipated, but surely it'll find the audience its made for when it arrives this fall.
In addition to Tyler Perry, the rest of the cast includes Bella Thorne, Cassi Davis, Patrice Lovely, Andre Hall, Yousef Erakat, Lexy Panterra, Diamond White, Liza Koshy, Brock O'Hurn, Jimmy Tatro, JC Caylen, Kian Lawley and Mike Tornabene. Tyler Perry directs the movie himself from a script he also wrote, so there's no one to blame but him.
In Boo! A Madea Halloween, Madea winds up in the middle of mayhem when she spends a hilarious, haunted Halloween fending off killers, paranormal poltergeists, ghosts, ghouls and zombies while keeping a watchful eye on a group of misbehaving teens.
Boo! A Madea Halloween arrives on October 21.