'Star Wars Rebels' Season 3 Trailer: Mandalorians, Grand Admiral Thrawn, Darth Maul & More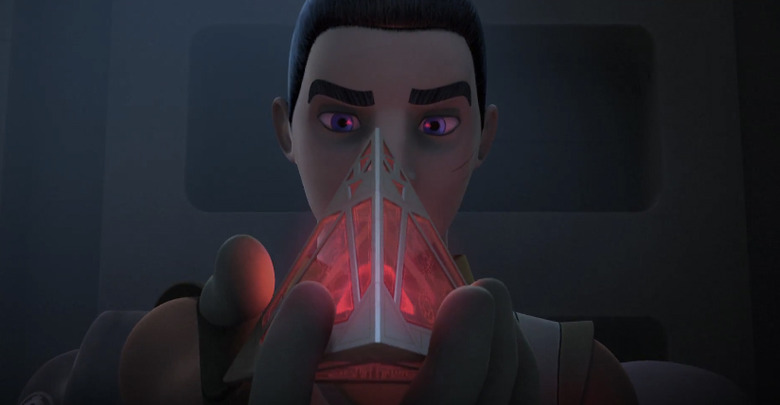 Star Wars Celebration continues today, and with it came some huge updates regarding the upcoming third season of Star Wars Rebels. From the panel earlier today, we learned that the expanded universe character Grand Admiral Thrawn was being brought into Star Wars canon officially as a new adversary for the Ghost crew and the rest of the Rebel Alliance to face, and there were plenty more tidbits revealed from the upcoming season.
Now you can get a taste of what's in store yourself with the new Star Wars Rebels season 3 trailer. And this is a big tease of what's coming later this year with over three minutes of footage from the new season. There are Mandalorians who give Ezra and Sabine a run for their money, Darth Maul trying to manipulate Ezra with the Sith holocron, and of course, the outstanding reveal of Grand Admiral Thrawn. Watch below!
I watched the live feed of the Star Wars Rebels panel earlier today, and the crowd went absolutely nuts after Grand Admiral Thrawn was revealed. And this introduction in the trailer is an awesome way to introduce him. He's a master strategist, and as you can see, he's been studying the Ghost crew for awhile, keen on figuring out just how to hit them the hardest. Thrawn (voiced by House of Cards star Lars Mikkelsen) was one of the characters that fans were disappointed to see removed from Star Wars canon when the expanded universe went to the wayside, but it's awesome that they figured how to incorporate him back into the universe.
Beyond that, we get a tease of Sabine interacting with some of her Mandalorian brethren. However, they don't seem to get along too well as a clip played during the panel showed when in pursuit of Sabine, Ezra and Chopper in a cool canyon chase sequence with all of them flying around. It was quite an awesome action sequence.
In addition, Darth Maul is still confusing Ezra as his powers begin to grow this season, complete with his new lightsaber and a bit more of an attitude. The struggle between the light side and the dark side of the Force may have some light shined on it from a neutral master of the Force named Bendu, who will be voiced by Doctor Who actor Tom Baker.
Star Wars Rebels returns to Disney XD sometime this fall.