Oscar Isaac Is So Hot Right Now, Joins Steven Spielberg's 'The Kidnapping Of Edgardo Montara'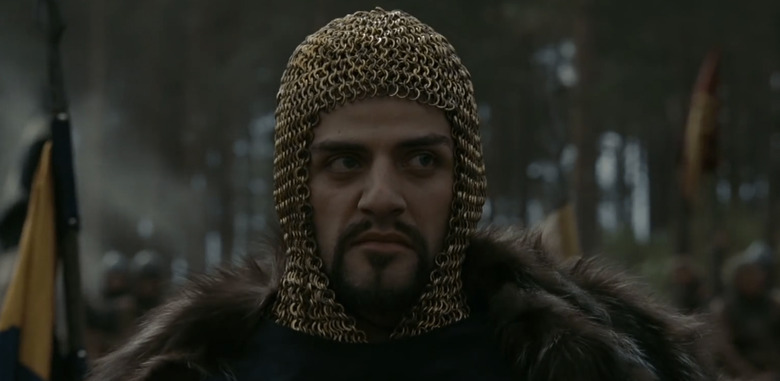 We may receive a commission on purchases made from links.
Even before Star Wars: The Force Awakens hit theaters last December, Oscar Isaac was already a pretty hot commodity. Leading up to his role in the massive sci-fi franchise, he had already made waves with outstanding performances in Ex Machina, A Most Violent Year and Inside Llewyn Davis, quickly turning him into a coveted talent on the big screen. Plus, even though most were not impressed with X-Men: Apocalypse, that had nothing to do with Isaac, and his profile hasn't been hurt by that stumble at all.
Now Oscar Isaac is preparing to add another notch to his professional acting belt with news that he is taking a role in The Kidnapping of Edgardo Montara, the next film from director Steven Spielberg.
Variety has news of the Oscar Isaac Steven Spielberg collaboration, but unfortunately they don't know what role the actor will be taking in the iconic filmmaker's adaptation of a true story that took place back to 1858.The Kidnapping of Edgardo Montara is based on David Kertzer's book of the same name about the true story of a young Jewish boy who is kidnapped by the Catholic Church in order to complete his conversion after being secretly baptized by a family servant. Here's the official synopsis of the book with more details:
Bologna: nightfall, June 1858. A knock sounds at the door of the Jewish merchant Momolo Mortara. Two officers of the Inquisition bust inside and seize Mortara's six-year-old son, Edgardo. As the boy is wrenched from his father's arms, his mother collapses. The reason for his abduction: the boy had been secretly "baptized" by a family servant. According to papal law, the child is therefore a Catholic who can be taken from his family and delivered to a special monastery where his conversion will be completed.
With this terrifying scene, prize-winning historian David I. Kertzer begins the true story of how one boy's kidnapping became a pivotal event in the collapse of the Vatican as a secular power. The book evokes the anguish of a modest merchant's family, the rhythms of daily life in a Jewish ghetto, and also explores, through the revolutionary campaigns of Mazzini and Garibaldi and such personages as Napoleon III, the emergence of Italy as a modern national state. Moving and informative, the Kidnapping of Edgardo Mortara reads as both a historical thriller and an authoritative analysis of how a single human tragedy changed the course of history.
Previously we learned that Spielberg's Bridge of Spies and The BFG star Mark Rylance had landed the role of Pope Pius IX, a key figure during this whole ordeal which you can read more about at Wikipedia. If I had to guess, Isaac will probably be playing another key figure in the church, but we'll have to wait to find out.
Tony Kushner, who previously wrote Munich for Spielberg, is adapting the book. That previous collaboration between the two also powerfully tackled the oppression of Jewish people with a real event from history, and this sounds like another awards contender in the making for Spielberg. However, he won't direct it until after he's done with Ready Player One, so we might be waiting awhile before it hits theaters.