'Pete's Dragon' Clips Show Off Pete, His Dragon, And Other Non-Furry Members Of The Supporting Cast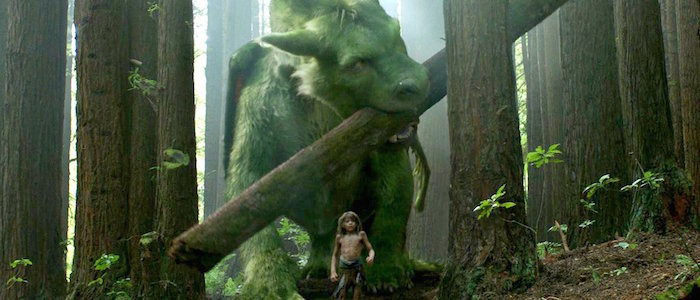 Director David Lowery is probably doing something right with his upcoming remake of Pete's Dragon because I'm not a fan of the 1977 original in the slightest but I fully intend to see the new version in its opening weekend. Maybe my soft spot for tales of isolated youngsters finding families is showing, or maybe I'm just a sucker for dragons, but everything we've seen from this movie looks charming and sweet and the right shade of adventurous.
Two new clips from the film have arrived online and they haven't changed my mind. This looks like it could be one of 2016's better family movies.
The first clip is the full version of a scene we've already glimpsed in the trailer, with Pete (played by newcomer Oakes Fegley) leaping off a cliff in the Pacific Northwest forest he calls home, confident that his dragon buddy Elliot will catch him. I really dig the design for Elliot, which takes a few cues from the original film (that green hue!), but goes in its own direction. I especially dig how that direction doesn't involve making him look like a traditional medieval fantasy dragon – the fluffy fur and the dog-like mannerisms make stand out from the Game of Thrones pack.
The second of the clips is a more low key, with Pete, who has been living alone in the woods with a dragon for most of his life, having a conversation with Natalie (Oona Laurence) about whether or not his winged buddy is imaginary. As we saw in the previous clip, the answer is no.
Pete's Dragon opens on August 12, 2016. Here's the official synopsis:
For years, old wood carver Mr. Meacham (Robert Redford) has delighted local children with his tales of the fierce dragon that resides deep in the woods of the Pacific Northwest. To his daughter, Grace (Bryce Dallas Howard), who works as a forest ranger, these stories are little more than tall tales...until she meets Pete (Oakes Fegley). Pete is a mysterious 10-year-old with no family and no home who claims to live in the woods with a giant, green dragon named Elliott. And from Pete's descriptions, Elliott seems remarkably similar to the dragon from Mr. Meacham's stories. With the help of Natalie (Oona Laurence), an 11-year-old girl whose father Jack (Wes Bentley) owns the local lumber mill, Grace sets out to determine where Pete came from, where he belongs, and the truth about this dragon.