New 'Wonder Woman' Photos: Gal Gadot Is Ready For Battle, Chris Pine Takes A Knee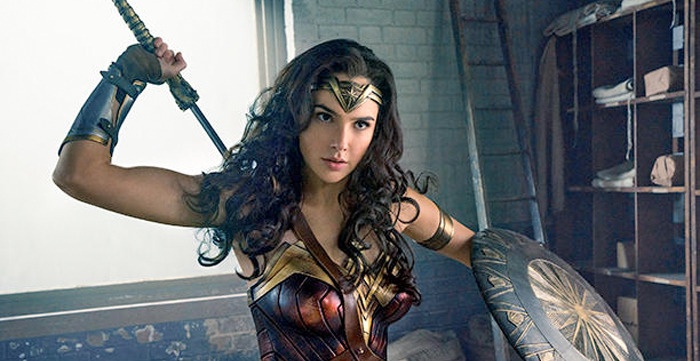 Next week brings the annual madness of Comic-Con in San Diego, and with it comes a sneak peeks of what's to come from our favorite TV shows and upcoming blockbusters. As usual, Warner Bros. Pictures has their own panel and they're bringing plenty of good stuff with them for Suicide Squad, The LEGO Batman Movie, King Arthur: Legend of the Sword, Kong: Skull Island and Fantastic Beasts and Where to Find Them. But perhaps the most exciting tease we'll get will be for Wonder Woman.
We're expecting some brand new footage from Wonder Woman to be revealed in Hall H at Comic-Con, maybe even the first official trailer that everyone will get to see regardless of whether or not they're at the convention. In the meantime, some new Wonder Woman photos have arrived online featuring Gal Gadot ready for battle. Plus, we get another glimpse at Chris Pine in the movie as well.
Here's the new batch of photos from the latest issue of Entertainment Weekly:
One photos has Gal Gadot striking a pose with her trademark bracelets crossed, but that appears to just be for a promotional purposes and not during actual shooting. But if you look in the background, you'll see a bunch of shields and swords on the ground, perhaps following some kind of big battle between her Amazonian people and an unknown enemy.
Otherwise, the rest of the photos don't tell us much. One features Gal Gadot taking direction in the woods from filmmaker Patty Jenkins (Monster) and another has our heroine kneeling beside Chris Pine in the woods, perhaps doing some surveillance on some kind of threat. The coolest photo in the batch is also a bit perplexing, because Gadot looks badass as she draws her trusty sword, but who could she possibly be preparing to fight in that dirty building?
Perhaps we'll get some more context for these photos and the story of Wonder Woman in general when the first bit of footage debuts at Comic-Con next week. Hopefully we'll see more of the cast as well, which includes Robin Wright (Netflix's House of Cards), Danny Huston (X-Men Origins: Wolverine), David Thewlis (Harry Potter and the Prisoner of Azkaban), Ewen Bremner (Exodus: Gods and Kings), Saïd Taghmaoui (American Hustle), Elena Anaya (The Skin I Live In), Connie Nielsen (Gladiator) and Lucy Davis (Shaun of the Dead).
We'll have all the latest updates straight from the convention when Warner Bros. starts unveiling their secrets, so stay tuned for more very soon.
Before she was Wonder Woman, she was Diana, princess of the Amazons, trained to be an unconquerable warrior. Raised on a sheltered island paradise, when an American pilot crashes on their shores and tells of a massive conflict raging in the outside world, Diana leaves her home, convinced she can stop the threat. Fighting alongside man in a war to end all wars, Diana will discover her full powers...and her true destiny.
Joining Gal Gadot in the international cast are Chris Pine, Connie Nielsen, Robin Wright, David Thewlis, Danny Huston, Elena Anaya, Ewen Bremner and Saïd Taghmaoui. Jenkins directs the film from a screenplay by Allan Heinberg and Geoff Johns, story by Zack Snyder & Allan Heinberg, based on characters from DC Entertainment. Wonder Woman was created by William Moulton Marston. The film is produced by Charles Roven, Zack Snyder, Deborah Snyder and Richard Suckle, with Rebecca Roven, Stephen Jones, Wesley Coller and Geoff Johns serving as executive producers.
Wonder Woman arrives on June 2, 2017.