Go Behind The Scenes Of 'Rogue One: A Star Wars Story' With This New Star Wars Celebration Video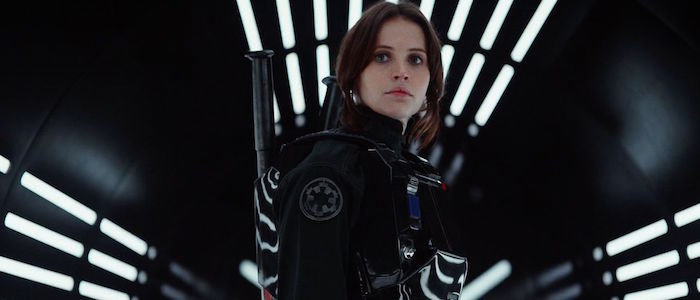 At last year's San Diego Comic-Con, the thousands of fans who piled into Hall H for the Star Wars: The Force Awakens panel expected to see a new trailer for the most eagerly anticipated film of 2015. Instead, director J.J. Abrams revealed that they weren't ready to unveil a new trailer...but they had something else. The video they played was key to energizing the narrative around The Force Awakens, a movie that was, at the time, surrounded by mixed buzz and engendering uneasy feelings amongst the most devoted fans. A look behind the scenes of the film proved to be just as powerful as a traditional preview, touching every nostalgic note while promising a move to the future.
Now, Rogue One: A Star Wars Story is attempting a similar narrative at this year's Star Wars Celebration in London. While just about everyone was expecting a new trailer for director Gareth Edwards' new movie to arrive with the film's panel, Lucasfilm has instead released a video that takes us behind the curtain, offering tantalizing glimpses at the film's set and the scale of this ambitious production.
However, this video has a far different task than the featurette that was cut together for The Force Awakens last year. That film was partially fueled by nostalgia – it could lean on the fact that we were seeing the Millennium Falcon for the first time in decades. It could move viewers just by reminding that Han Solo and Chewbacca were back. Rogue One faces an uphill battle in comparison: the timeline and the imagery may be familiar, but it has to convince audiences to embrace a crew of brand new characters.
Here's the video:
As you may know, Rogue One is set in same timeframe as the original trilogy, following a team of Rebel soldiers, spies, and droids who set out to steal the plans to the Empire's deadly new superweapon, the Death Star. Since the events of 1977's Star Wars eventually do occur, we know that they succeed...but the mere fact that this is a one-off adventure, a "Star Wars Story" as opposed to a main chapter of the saga, allows us to question what will be left of the team when all is said and done.
Rogue One: A Star Wars Story is undergoing reshoots this summer so it can be in tip-top shape for its December 16, 2016 release. Watching how a spin-off movie set in the Star Wars universe performs compared to a main "episode" is going to be very, very interesting.