'Guardians Of The Galaxy Vol. 2' Concept Art Reveals The New Team Line-Up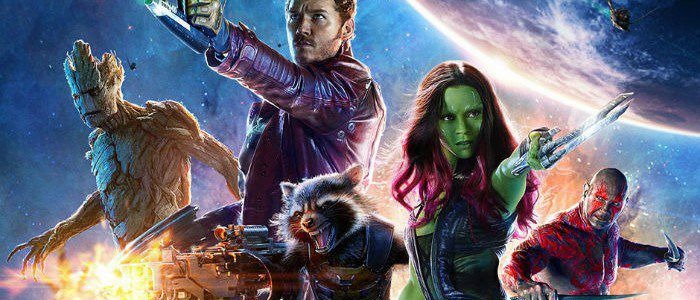 Before we saw a single frame of actual footage from the first Guardians of the Galaxy movie, we saw concept art of Star-Lord, Gamora, Drax, Groot and Rocket standing in a line, adopting their most dramatic superhero poses. And now, Guardians of the Galaxy Vol. 2 is following a similar path. Before official set photos and before a trailer of any kind, we have our first look at the new team line-up via a piece of very cool concept art. And wouldn't you know it? The original five members are now joined by few new and familiar faces.
So let's just get right down to it: here's that concept art, shared by writer/director James Gunn on Twitter and illustrated by artist Andy Park. As you'd expect from a world-class superhero unit, the Guardians don't seem to be fazed in the slightest by the massive explosions going off right behind them.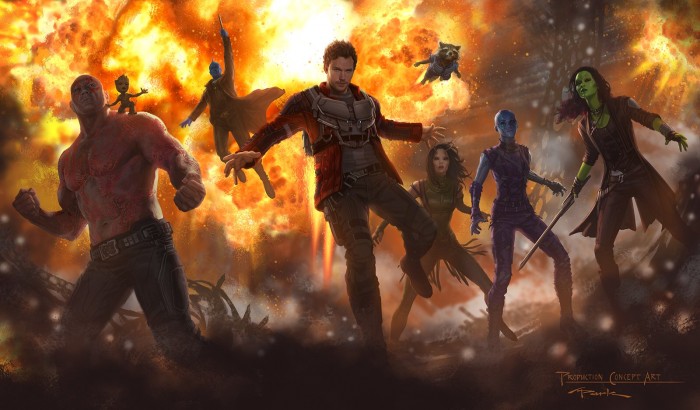 Let's run down everyone in this picture. Chris Pratt's Peter Quill (aka Star-Lord) is instantly recognizable, even though his uniform has gotten an upgrade. The same goes for Zoe Saldana's Gamora, who hasn't changed much beyond a new set of clothing. Dave Bautista's Drax is still his shirtless self, but the tiny baby Groot on his shoulder suggests that this sequel takes place shortly after the events of the first film as everyone's favorite sentient tree hasn't had the chance to grow up. Meanwhile, Rocket appears to be taking his name very literally in the background.
That brings us to the three new new additions to the line-up, two of whom should ring a bell. Standing to the right of the art is Karen Gillan's Nebula, Gamora's adopted sister and a villain from the first film who managed to escape with her life intact. If this art is any indication, she'll have a change of heart...or at least see some kind of benefit in allying with the team. Speaking of new members of the team with blue skin, you'll note Michael Rooker's Yondu hanging out with the background, which suggests that his temporary alliance with the team from the third act of the first movie may evolve into something more permanent.
But who is that new woman, the one standing between Star-Lord and Nebula? That's Mantis, played by Pom Klementieff, a character who will only be familiar to the truly seasoned Marvel comic book buffs. In short, she's a perfect physical specimen with superior strength and martial arts abilities who employs near perfect control of her body and its functions. And as the film's executive producer Jonathan Schwartz tells Entertainment Weekly, she's only recently emerged from living in isolation:
She has never really experienced social interaction. Everything she learns about dealing with people, she learns from the Guardians of the Galaxy, which is a very weird group to learn your social intricacies from.
Guardians of the Galaxy Vol. 2 recently wrapped filming and will be released on May 5, 2017. EW notes that this art will be available to fans at this year's San Diego Comic-Con.