'Rules Don't Apply' Trailer: Warren Beatty Directs A Quirky Romance Set In 1950s Hollywood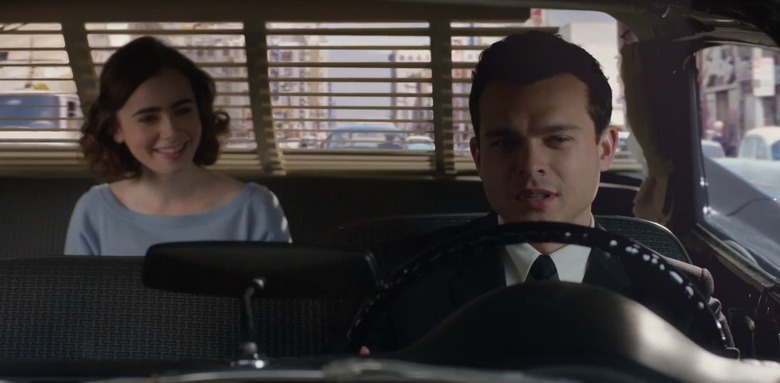 It's been 18 years since Warren Beatty was behind the camera with the political comedy Bulworth. Now he's finally back in the director's chair with a project that has been kicking around for a long time. Though the project has always been said to focus on Howard Hughes, the first trailer for the film shows that this is more of an ensemble romantic comedy.
Rules Don't Apply follows the budding romance between a young aspiring actress (Lily Collins) and her married driver (Alden Ehrenreich) as they both have to deal with the eccentricities of the famous billionaire Howard Hughes (Warren Beatty), who employs them both.
Watch the first Rules Don't Apply trailer after the jump.
After watching this first trailer, I'm not exactly sure how I feel. The tone is not what I was expecting at all, feeling like a cross between Hail, Caesar! from the Coen brothers and the recent comedies Woody Allen has been making. But there's definitely something charming about this peek at the film.
However, I will say that it's almost a bit distracting seeing Warren Beatty play Howard Hughes in this light fashion after seeing what director Martin Scorsese and star Leonardo DiCaprio did with the billionaire's life in The Aviator. This almost feels like a sequel since it appears to mostly take place after The Spruce Goose take-off, which was at the end of The Aviator, even though the two movies couldn't be more different.
At the very least, the cast is extremely appealing. In addition to the three leads, the rest of the roster includes Alec Baldwin, Annette Bening, Haley Bennett, Candice Bergen, Matthew Broderick, Dabney Coleman, Steve Coogan, Taissa Farmiga, Ed Harris, Megan Hilty, Oliver Platt and Martin Sheen. That's quite a line-up worth seeing together on the big screen. Hopefully our time spent waiting for Beatty's latest directorial effort will be worth it.
It's Hollywood, 1958. Small town beauty queen and devout Baptist virgin Marla Mabrey (Lily Collins), under contract to the infamous Howard Hughes (Warren Beatty), arrives in Los Angeles. At the airport, she meets her driver Frank Forbes (Alden Ehrenreich), who is engaged to be married to his 7th grade sweetheart and is a deeply religious Methodist. Their instant attraction not only puts their religious convictions to the test, but also defies Hughes' #1 rule: no employee is allowed to have any relationship whatsoever with a contract actress. Hughes' behavior intersects with Marla and Frank in very separate and unexpected ways, and as they are drawn deeper into his bizarre world, their values are challenged and their lives are changed.
Rules Don't Apply arrives on November 11.