WTF: 'Sausage Party' Costumed Characters Make A Weird Morning Show Appearance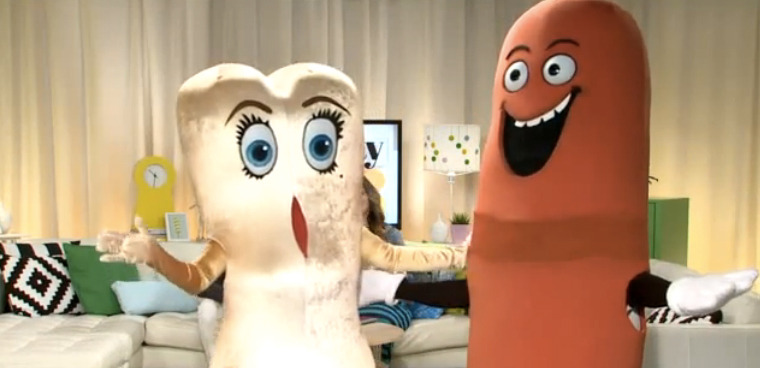 In show business, pretty much any publicity is good publicity. And in the case of the marketing for Sausage Party, it looks like Sony Pictures is making some weird choices in their efforts to promote the R-rated animated comedy from Seth Rogen & Evan Goldberg. We've seen red band trailers, a Walt Disney inspired promo and an Independence Day PSA, but this latest video promoting the movie is the weirdest as it sees costumed character versions of Frank the hot dog and Brenda with the good buns appearing on a morning talk show.
Watch the Sausage Party morning show promotion after the jump.
Here's the weird Sausage Party promotion (via Cartoon Brew):
What's so strange about this promotion is the fact that it's not taking place during a morning talk show like The Today Show or The View, but rather during a Denver Fox affiliate program called Everyday. This makes the promotion feel like it's something on Adult Swim that would air in the early hours of the morning just before infomercials start playing.
Doing this kind of local advertising seems like a strange move for Sony Pictures, especially on a FOX affiliate channel, but maybe the studio was hoping that an odd clip like this would go viral online simply due to its odd nature. But honestly, the video isn't so much odd as it is cheesy any annoying, especially with the two hosts doing their own quick voiceover when the potato starts getting peeled in the video clip they show. A more interesting video might be the pitch meeting where this promotion was determined to be a good idea.
Oh well, at least Sausage Party itself looks funny. We'll find out on August 12.