'Star Trek Beyond' Clip: Scotty Meets Jaylah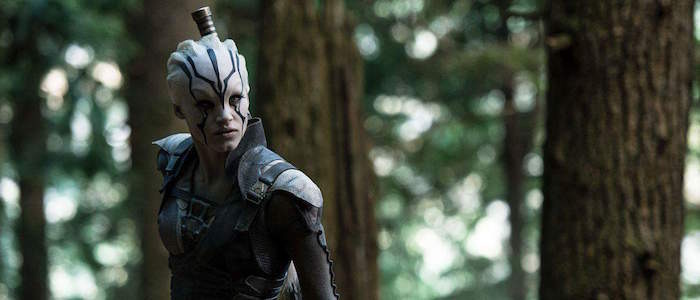 Now that 2009's Star Trek re-introduced the classic Enterprise crew and 2013's Star Trek Into Darkness did everything in its power to wreck them, Justin Lin's Star Trek Beyond has a bold new task before it: introducing new characters and allowing them to stand out amidst a cast of familiar faces and iconic names. We'll hopefully get a memorable new adversary in Idris Elba's Krall and as this new clip from the film seems to indicate, Sofia Boutella's Jaylah certainly appears to be a unique addition to the ensemble.
If you've seen the trailer, you have all the context you need to understand what's going on here. The Enterprise has been destroyed by the mysterious Krall and his forces, scattering the crew across the surface of an unknown planet. Chief engineer Montgomery Scott (played once again by Simon Pegg, who co-wrote Star Trek Beyond) finds himself in the company Jaylah, a very serious alien who knows exactly what's going on but won't spill the finer points to her new friend quite yet. Naturally, the affable Scotty and the All Business Jaylah make for an interesting duo and hopefully the cute banter here gets to go a bit further in the finished movie.
The Algerian-born Boutella is in the middle of a pretty impressive run. She first grabbed everyone's attention with a scene-stealing turn as Samuel L. Jackson's blade-legged henchwoman in Kingsman: The Secret Service and she's currently filming Universal's reboot of The Mummy, where she plays the title monster opposite Tom Cruise. Her playing a Star Trek alien feels like some kind of genre movie trifecta. Anyone who is playing a really weird game of bingo should take note. Heck, maybe your peculiar bingo card includes "appear in a scene opposite Simon Pegg."
Star Trek Beyond opens on July 22, 2016. We previously broke down the trailer into tiny little pieces if you're up for some extended reading. Here's the official synopsis:
"Star Trek Beyond," the highly anticipated next installment in the globally popular Star Trek franchise, created by Gene Roddenberry and reintroduced by J.J. Abrams in 2009, returns with director Justin Lin ("The Fast and the Furious" franchise) at the helm of this epic voyage of the U.S.S. Enterprise and her intrepid crew. In "Beyond," the Enterprise crew explores the furthest reaches of uncharted space, where they encounter a mysterious new enemy who puts them and everything the Federation stands for to the test.