'White Girl' Red Band Trailer: Wild Sex, Plenty Of Drugs And A Pulsing Soundtrack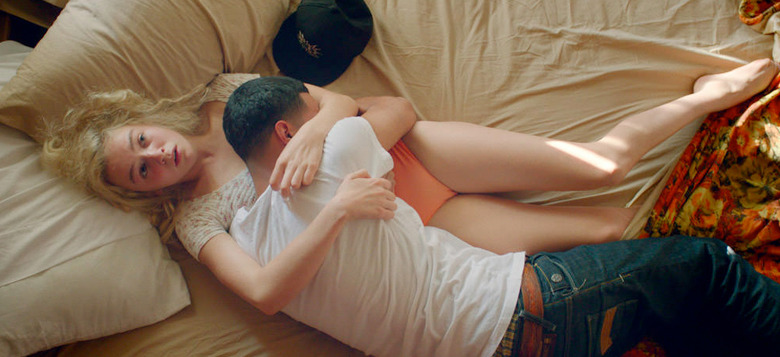 Kids are getting up to some pretty crazy things nowadays with their Tinder and their Pokemon Go, and hopefully a bright future that combines promiscuous dating and Nintendo in a single app somehow. Still, it's a safe bet that most youths of today don't get caught up in the kind of risky and risque shenanigans that are on display in the first trailer for the indie flick White Girl.
Marking the directing debut of Elizabeth Wood, the film follows a young girl who isn't shy about her sex life, usually involving casual drug use. But her wild lifestyle gets a little more crazy when a young drug dealer she starts dating gets arrested, leaving her with a bunch of cocaine and a big decision to make.
Watch the White Girl trailer after the jump, but beware that it's NSFW due to nudity.
The reviews from White Girl's debut at Sundance certainly resulted in a lot of praise for Elizabeth Wood as The Hollywood Reporter noted:
First-feature-maker Elizabeth Wood's cocaine-dusted, semen-soaked provocation takes an unapologetically pitiless look at one privileged young woman's walk through the hot coals of crime, class and desperation. Seductive and repellent by turns, it's a title that will provoke fierce love-or-hate reactions, but there's no question it augurs the arrival of a powerful, audacious new directorial talent.
This looks like a visceral story of unhinged life as a college kid in New York City, with plenty of elements inspired by the filmmaker's own life, making it that much more grounded. Elizabeth Wood has been rumored to be in the running to direct Captain Marvel, but this is obviously far removed from a studio blockbuster. However, White Girl would be substantial evidence that Wood knows how to handle a strong, female lead character, and she does so with plenty of electric energy and style.
Here's the synopsis for White Girl from Sundance earlier this year:
Equipped with platinum blonde hair and a winning smile, college girl Leah (Morgan Saylor) seeks out pleasure in any form. She has two weeks before fall semester, and in between getting high with her roommate and snorting lines with her boss, she finds time to hit it off with a handsome, young Puerto Rican drug dealer named Blue. Within days, the two are selling dime bags to her affluent white colleagues, collecting fast cash, and living the high life. But their euphoria comes to a grinding halt once Blue is arrested and Leah's left with a hefty amount of his coke. Does she sell it to save him or use it herself?
White Girl arrives sometime in September.