'Escape From New York' And 'Big Trouble In Little China' Are Crossing Over...in A Comic Book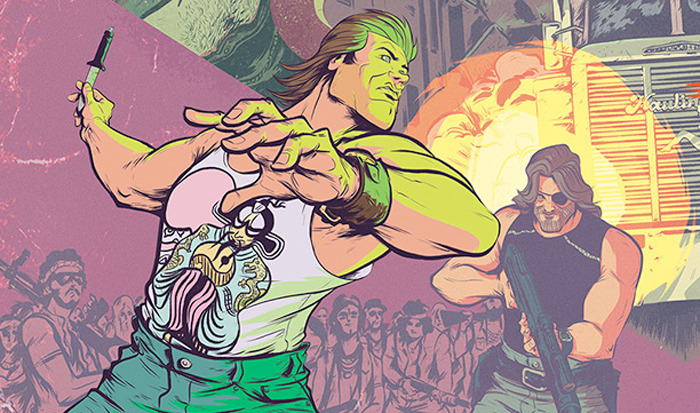 We may receive a commission on purchases made from links.
Thanks to director John Carpenter, we've seen Kurt Russell in full badass mode in both Escape from New York and Big Trouble in Little China. But you know what both of those movies could use? The answer is even more Kurt Russell, and a new comic is getting ready to deliver just that.
Boom! Studios has revealed a new crossover comic book fully approved by John Carpenter that will have Snake Plissken from Escape from New York and Jack Burton from Big Trouble in Little China together for the first time.
Here's a first look at the comic book featuring Jack Burton and Snake Plissken (via EW):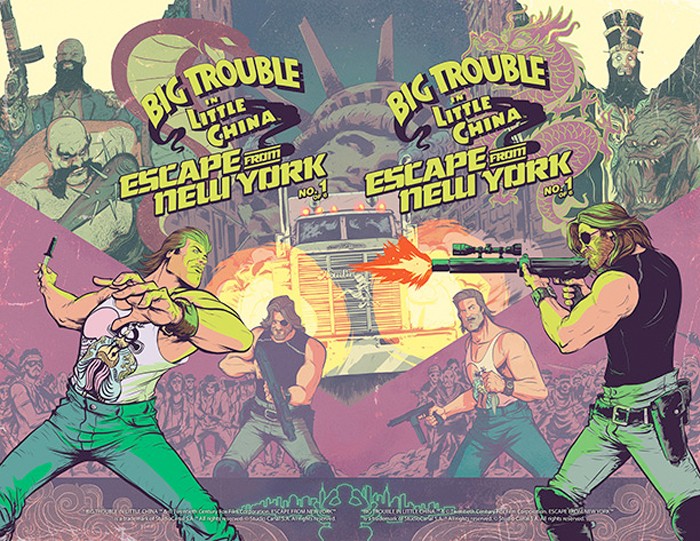 The Big Trouble in Little China Escape from New York Comic, from writer Greg Pak and artist Daniel Bayliss, will be a six-part crossover arriving in October. But how will these two characters end up meeting when Big Trouble in Little China takes place in 1986 and Escape from New York takes place in the "future" of 1997? Apparently Jack Burton somehow time travels to 1997, and that's where he encounters Snake Plissken.
Beyond the meeting of these two characters, we don't really know much about the story that will bring these two characters together. However, if you look at the cover art above, in addition to Jack Burton and Snake Plissken both being featured twice, the villains Duke and Lo Pan are also included. How will they come into play in this comic?
This is all part of Big Trouble in Little China's 30th anniversary being celebrated this year. Despite the fact that Carpenter's film was a bomb at the box office, it has become a cult favorite. And for all the fans out there, two more books are coming later this year that will give fans everything they've ever wanted to know about the movie. In August, you can get The Official Making of Big Trouble in Little China and then a few months later in November, there will be The Art of Big Trouble in Little China.
Depending on how you feel about sequels and reboots, it could be a good time to be a fan of John Carpenter. The director is executive producing another installment of the long-running Halloween franchise and there's also a remake of Big Trouble in Little China in the works with Dwayne Johnson in the lead role. There's supposed to be an Escape from New York remake at some point too, but who knows if that'll ever really happen.