Sequel Bits: 'Fast 8,' 'Guardians Of The Galaxy Vol. 2,' 'Star Trek Beyond'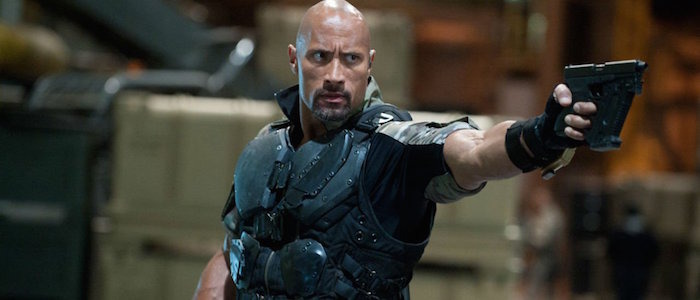 In this edition of Sequel Bits:
Dwayne Johnson teases a big change for Hobbs in Fast 8.
Fast 8 organizes an Omaze campaign to benefit the Paul Walker Foundation.
James Gunn counts down to the release date of Guardians of the Galaxy Vol. 2.
A new featurette explores Idris Elba's Krall in Star Trek Beyond.
Go behind-the-scenes of Rihanna's new Star Trek Beyond song and watch her discuss her fandom.
The Iceman cometh. And don't fucketh around. #OnSet #FastAndFurious8 #OrangeAintTheNewBlack #HobbsTheIceman APRIL 2017.
A photo posted by therock (@therock) on
Dwayne Johnson's Hobbs entered the Fast and Furious series as a law-abiding adversary for Vin Diesel's gang of big-hearted criminals, but he quickly became an unlikely ally and a member of the family. So what are we to make of this new photo from the set, which features Hobbs in a prison jumpsuit? Is the man going undercover or has he been framed for a crime he didn't commit or has he fully gone over to the other side? In any case, no prison can hold The Rock for very long.
Like Star Wars: The Force Awakens, Guardians of the Galaxy Vol. 2, and Star Trek Beyond before it, Fast 8 is utilizing a passionate fanbase for a good cause. The production has organized an Omaze campaign to benefit the Paul Walker Foundation and it works just like the campaigns you've seen attached to other huge films: you donate money to the cause and earn the chance to win a visit the Fast 8 set. The more you donate, the more chances you get to have your name drawn. If you donate in certain tiers, you get cool prizes, including T-shirts and autographed posters and whatnot. However, only one lucky fan will get the grand prize:
Think you have what it takes to ride with the Fast family? Well here's your chance. We're offering you and a guest the chance to join Vin Diesel, Dwayne Johnson, Michelle Rodriguez, Ludacris, Tyrese Gibson, Scott Eastwood and the rest of the gang for the fastest, most furious day of your life. You'll meet the cast, get a behind-the-scenes look at the making of a scene, and check out the interior of your favorite cars. Just don't mess up the leather; bad things happen to people who mess up the leather. Flights and hotel included.
The video above runs down the details in a goofy and often funny fashion (Dwayne Johnson making fun of Tyrese Gibson's forehead is lowbrow gold), but here's what your donation will actually benefit:
Their mission is simple: DO GOOD. The Paul Walker Foundation will continue to do the work that Paul started. After people began to share their personal stories about Paul's random acts of kindness, they became committed to preserving his spontaneous goodwill, and sharing it with others. The foundation is actively looking to acknowledge and support people all over the world for the random acts of kindness they commit. One of the key ways the foundation is giving back is through partnerships with organizations like the Monterey Bay Aquarium, supporting youth programs that introduce them to Marine Sciences and wildlife, and by providing scholarships to ocean leaders of tomorrow to become beacons in the fight to protect our oceans, wildlife, and ourselves.
Follow the link above to donate and to check out what kind of goodies your donations will earn.
???????????????????????????? A photo posted by James Gunn (@jamesgunn) on
Filming on Guardians of the Galaxy Vol. 2 has wrapped, but director James Gunn isn't done sharing photos from the set on his Instagram page. In this case, this behind-the-scenes shot is all about celebrating the fact that his highly anticipated sequel is only 300 days away from its 2017 release date. While the film is far from finished, we can expect to hear a great deal more about what the film has in store at Comic-Con later this month.
Paramount has released a new Star Trek Beyond featurette focusing on the villainous Krall, played by the great Idris Elba under a massive mound of prosthetics. The video doesn't offer too much new information, but it does a fine job of summarizing everything we have heard about this guy over the past few months: he's a nasty adversary who decimates the Enterprise and hates the Federation, but has a backstory that actually allows you to understand exactly where he's coming from and why he feels this way. That backstory is being kept under wraps for the time being, but I can only assume that's why someone of Elba's caliber would sign up for a role that looks like a more traditional heavy in all of the trailers. In any case, the idea of a villain who has every reason in the galaxy to not believe in the ideals of the Federation and Starfleet is classic Trek on paper. Let's see how it shakes out in the end.
While Paramount is celebrating the 50th anniversary of Star Trek with a new movie and a new television series, they are asking fans to join the celebration on Facebook, where you can submit a 50-second video explaining what this series means to you. You can follow that link above if you'd like to watch what other folks have submitted, but we've included the video from pop star Rihanna, who contributed a new song to Star Trek Beyond's soundtrack. Although she doesn't quite nail the Vulcan salute, the fact that she calls Geordi LeForge her favorite character is the kind of thing that only a real fan would say. No one defaults to Geordi of all people unless they mean it.
While we're talking about Rihanna and Star Trek Beyond, let's go ahead and close out this edition of Sequel Bits with this behind-the-scenes featurette on the making of the music video for her new Trek-themed song, "Sledgehammer." There isn't a whole lot of meat on the bone here, but director Floria Sigismondi does touch on filming the video with IMAX cameras and utilizing elements from the final film in the imagery of the video, which is pretty neat.