Javier Bardem Is The New Frankenstein In Universal's Monsters Universe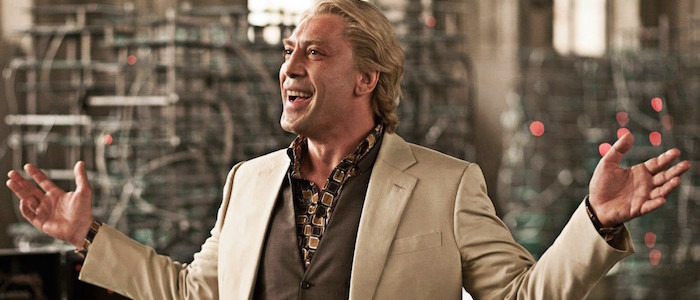 UPDATE: The chief question I proposed below has been answered by Variety's Justin Kroll on Twitter:
To be clear, he would be playing the monster in some form not Victor

— Justin Kroll (@krolljvar) July 11, 2016
The original article continues below.
If there was any doubt about whether or not Universal was viewing their new monsters cinematic universe as something that should be taken very seriously, just look at the talent they've been assembling: Tom Cruise will battle the title creature in The Mummy, Russell Crowe is playing a new version of Dr. Jekyll, Johnny Depp is on board to portray the Invisible Man, and Dwayne Johnson is rumored to be the top choice for the Wolf Man. Okay, so that last one is a little weird, but at least everyone loves The Rock.
And now, we can add another name to the mix: the great Javier Bardem has been cast as Frankenstein.
That news conjures one vital question for any self-respecting horror fan: who exactly is Bardem playing when they say "Frankenstein"? Variety broke the news, but they don't specify whether or not the Oscar-winning star of No Country For Old Men and Skyfall will be playing Dr. Victor Frankenstein or the monster he assembles out of spare body parts. After all, the latter is technically known as "the monster" or "the creature" in his original literary incarnation, but he has often adopted the name of his creator in latter versions and in the cultural eye.
Honestly, the crazy thing about this news is that I can see Bardem pulling off either performance. Yes, I would love to see Bardem play the classic mad scientist, who has been played as a sexy, debonair type and a cackling mad man over the years, but I would also cherish the chance to watch Bardem bury himself under latex and take on one of pop culture's most soulful, sympathetic, and dangerous horror icons.
Little else is known about Bardem's role or when a Frankenstein film will actually hit theaters, but Variety reports that Bardem is expected to make his monsters universe debut in another film before getting his own solo adventure. Although The Mummy is set to wrap soon, there's always time to squeeze in a cameo. Interestingly, the same report notes that Bardem was originally offered the Dr. Jekyll role, but he probably made the right choice. Why settle for a great monster when you can play the greatest monster?
The Mummy, which is directed by Alex Kurtzman, is set to arrive in theaters on June 8, 2017. That film should set the tone for future Universal monster movies and give us an idea of what we can expect for the rest of these characters. Hopefully, we'll be getting something that honors these complex icons. And hopefully, they'll actually remember to be, you know, scary.