Why Quentin Tarantino Thinks Hans Landa Is His Best Character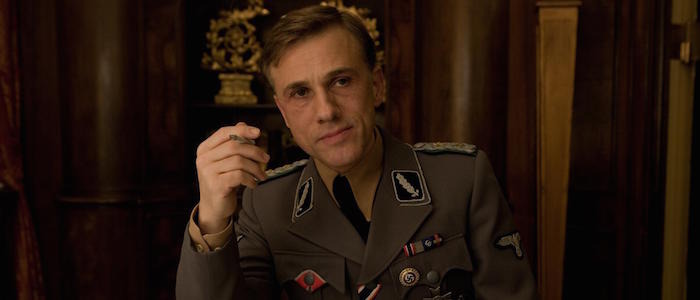 Last year, I embarked on the ridiculous task of ranking every single Quentin Tarantino character and Christoph Waltz's Hans Landa, the scheming Nazi villain of Inglourious Basterds, landed in the number two spot. It turns out that Tarantino thinks more highly of this character than I do, since he has revealed that Landa is his personal favorite of every character he has created.
Tarantino was a special guest at the Jerusalem Film Festival, which was played host to a special screening of Pulp Fiction with a Q&A from the acclaimed and controversial writer/director himself. Although the event was full of stories from every corner of his career, let's focus on this quote for a moment:
Landa is the best character I've ever written and maybe the best I ever will write.
On screen, Hans Landa arrives feeling complete, a terrifying monster who can also be charming, witty, and likable in a way that should make everyone in the audience deeply and powerful uncomfortable. If he wasn't in the employ the Nazi party during World War II, you could imagine him being a great detective in the Sherlock Holmes mode. That he is so clearly an erudite and fascinating man only makes him all the more chilling. Tarantino himself spoke about discovering exactly who the character was as he wrote him:
When I wrote the scene in the opening, in the farmhouse, I didn't know yet that Colonel Landa was a linguistic genius, but during the course of writing the script, he became a linguistic genius. No matter what character came in the room, he could kick it to them in their language and speak it really well. He's not shown doing it, but he's probably one of the only Nazis in cinema history who could speak Yiddish, perfectly.
Tarantino also explained that casting the character was so difficult that he considered scrapping the project altogether. After all, a weak Landa would deflate the entire movie:
The character was so vivid on the page. You bought everything he did on the page [...] if you had to wait for an actor to learn (the) stuff, he would never be the Landa that was on the page. There'd be a hesitancy on the screen.
Of course, he ended up finding the mostly unknown Waltz and the rest is history, with the actor taking home a Best Supporting Actor trophy at the Oscars before winning that award again for Tarantino's Django Unchained.
For additional quotes and anecdotes and bold statements (including Tarantino once again stating that he plans to retire after his tenth movie), you can head over to The Times of Israel and Collider.