'Ballers' Season 2 Trailer: Dwayne Johnson Goes Head To Head With Andy Garcia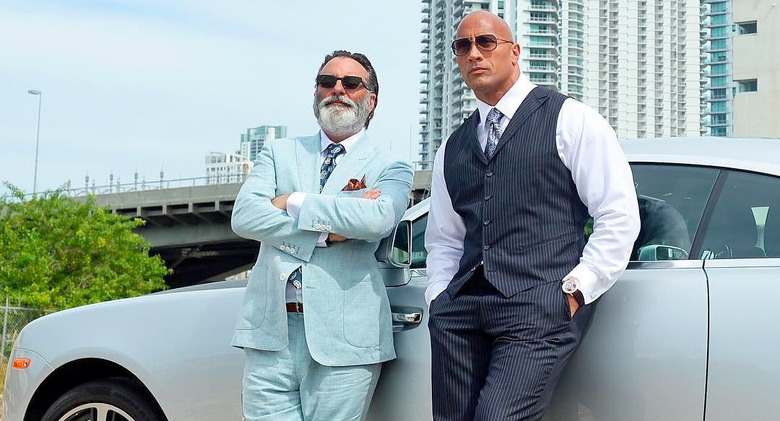 It took eleven different guys to take down Andy Garcia in Ocean's Eleven, so it should come as no surprise that even Dwayne Johnson will have some trouble facing off with the Oscar nominee in the forthcoming second season of the HBO series Ballers.
The series is essentially Entourage set in the world of sports, but with much more of a focus on the business side of things. Essentially, it's like Dwayne Johnson is Jeremy Piven's character, but he's much less obnoxious and nowhere near as offensive or angry. The second season is premiering later this week, and a new Ballers season 2 trailer shows that Andy Garcia will be a force to be reckoned with for Dwayne Johnson.
Here's the new Ballers trailer straight from HBO:
This isn't quite at the same level of quality as shows like Silicon Valley or Veep, but Ballers isn't exactly going after the same audience as those shows, so it works out in the end. Ballers isn't exactly compelling enough for me to stay invested, mostly because I'm not a huge sports fan, but Johnson and Rob Corddry do make an entertaining duo.
HBO certainly seems to be milking that Vin Diesel joke since it's been part of pretty much every teaser and trailer for the second season. /Filmcast David Chen noticed the joke, and he made a rather interesting observation:
Rarely do movies with stars like Dwayne Johnson make pop culture references that make you think about the fact that a real life version of the actor who is playing a fictional character also exists in that world. That's probably for the best because then you'd have to start thinking about the idea that this fictional character looks exactly like a famous actor or actress.
However, in this case, Johnson is mistaken for another famous actor who he has shared the screen with. So this raises the question as to who is co-starring in the Fast and Furious franchise alongside Vin Diesel in Fast Five, Fast and Furious 6 and Furious 7. Presumably it's not Dwayne Johnson because the hotel clerk would ask if he was Dwayne Johnson instead of Vin Diesel. So maybe Dwayne Johnson just doesn't exist in the world of Ballers, and that's a shame.
Anyway, the second season of Ballers arrives on July 17 on HBO at 10pm ET.