'Sausage Party' Extended TV Spot: Seth Rogen's Hot Dog Has Never Been In A Bun Before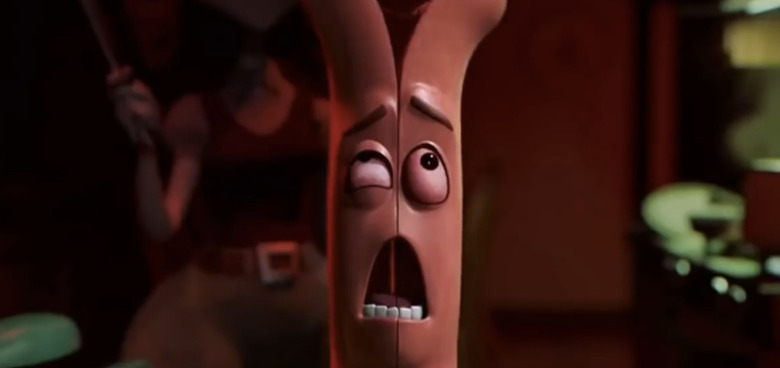 There's been plenty of animated fare for kids this summer, with the likes of Finding Dory and The Secret Life of Pets hitting theaters. But towards the end of the summer, the adults get to have some raunchy animated fun on the big screen.
Sausage Party is the latest film from Seth Rogen & Evan Goldberg, and they're bringing their twisted sense of humor to the grocery aisle with the movie about sentient food who finally learns what happens when they get taken home. Now a new extended Sausage Party TV spot shows more of the brutal death being dealt to food by terrible, hungry humans.
Here's the Sausage Party TV spot from JoBlo:
We'll probably need some kind of counter to keep track of just how many double entendre jokes there are about hot dogs throughout the movie, but we would expect nothing less from a movie called Sausage Party. There will probably be endless food puns, but hopefully the humor is enough to keep the film entertaining since I can't imagine this premise easily lasting for a feature-length story.
At the very least, we know that the cast alone makes this worth the price of admission. Voices in Sausage Party include Kristen Wiig, Bill Hader, Jonah Hill, Craig Robinson, Michael Cera, James Franco, Paul Rudd, Nick Kroll, Edward Norton and Salma Hayek. They're all under the direction of Greg Tiernan, who has worked on countless Thomas & Friends home video releases, and Conrad Vernon, the director of Monsters vs Aliens and Shrek 2.
If you're looking for more from Sausage Party, the red band trailer is the best representation of the movie. But hopefully you don't accidentally see it before Finding Dory, which is what happened recently over in Concord, CA. Now those kids will never eat baby carrots without weeping for their little lives ever again.
Life is good for all the food items that occupy the shelves at the local supermarket. Frank (Seth Rogen) the sausage, Brenda (Kristen Wiig) the hot dog bun, Teresa Taco (Salma Hayek) and Sammy Bagel Jr. (Edward Norton) can't wait to go home with a happy customer. Soon, their world comes crashing down as poor Frank learns the horrifying truth that he will eventually become a meal. After warning his pals about their similar fate, the panicked perishables devise a plan to escape from their human enemies.
Sausage Party arrives on August 12.