'Star Trek Beyond' TV Spot: Kirk And Spock Make A Great Team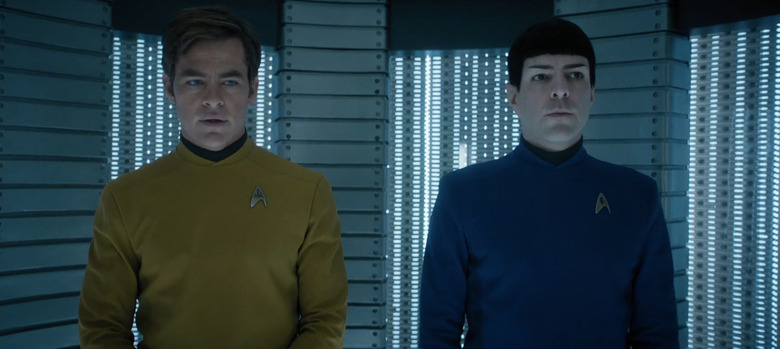 In under a couple weeks, the premiere of Star Trek Beyond will be happening at San Diego Comic-Con. We'll be there at the convention, complete with a reaction to the latest sequel in the rebooted film franchise based on Gene Roddenberry's classic TV series, which will also be celebrating its 50th anniversary there as well.
Leading up to the release of the film in a couple weeks, a new Star Trek Beyond TV spot has surfaced with some new footage, including more shots of the Enterprise getting torn apart, and a nice little moment between our Kirk and Spock as well. Watch it below.
The sequel has drummed up some buzz lately because the sequel will bring a gay iteration of Sulu (John Cho) into the mix. George Takei, who played the original version of the character in the television series, didn't really like that creative decision because it messes with what Gene Roddenberry created.Of course, that's what reboots are supposed to do, and it really doesn't change anything fundamentally about the character himself.
Star and co-writer Simon Pegg respectfully disagreed with Takei's perception of this change, and now Zachary Quinto has also come out to say he was disappointed in the veteran actor's assessment of the decision, citing the fact that this is an alternate universe where anything can happen. You can read his full statement over at Entertainment Weekly.
Star Trek Beyond will hopefully get the franchise back on the right track after Star Trek Into Darkness brought an uninspiring retread of Wrath of Khan to the table. Justin Lin is at the helm this time, so we know the action will be top notch, but it's the story from Simon Pegg and Doug Jung that we're hoping packs a punch this time.
"Star Trek Beyond," the highly anticipated next installment in the globally popular Star Trek franchise, created by Gene Roddenberry and reintroduced by J.J. Abrams in 2009, returns with director Justin Lin ("The Fast and the Furious" franchise) at the helm of this epic voyage of the U.S.S. Enterprise and her intrepid crew. In "Beyond," the Enterprise crew explores the furthest reaches of uncharted space, where they encounter a mysterious new enemy who puts them and everything the Federation stands for to the test.
Star Trek Beyond opens in theaters July 22nd.