Rian Johnson Shares 'Star Wars: Episode 8' Set Photos As Actors Begin To Wrap Filming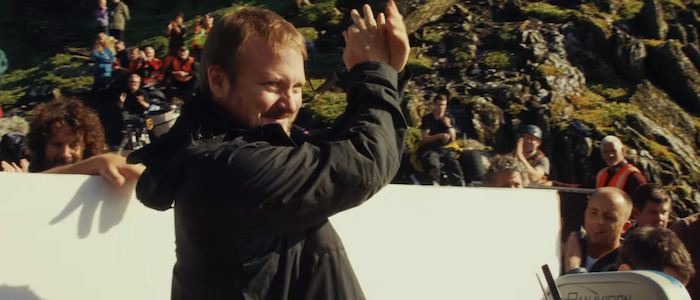 One of the great pleasures in keeping an eye on the production of Star Wars: Episode 8 over the past few months has been watching director Rian Johnson remain his usual self despite the gargantuan size of his latest film. This may be the biggest film he's made yet, dwarfing the likes of Looper, Brick, and The Brothers Bloom, but Johnson's social media presence has stayed on point: he's smart, funny, informative, and often adorably weird. Oh, and he does what he can to share images from the set, giving fans something to talk about while everything else about the movie (like it's actual title) remain under wraps.
Filming on Episode 8 is in its final weeks (Mark Hamill says the production is set to wrap up on July 22), but that hasn't stooped Johnson from sharing images and goofy jokes straight from the set. On this miserable Friday at the end of a very miserable week (have you checked the news lately?), this is the kind of breather we all need right now. See the Star Wars Episode 8 set photos after the jump.
Let's start with this tweet from yesterday, where Johnson (or someone on the crew) celebrated a certain milestone with a little low-key, friendly vandalism:
But even beter is this ominous tweet, which promises something dark and horrible beyond that Instagram link.
And here it is: Daisy Ridley performed a face swap with Rian Johnson and the resulting image is about as terrifying as you would expect. They might as well digitally insert these two into the dark corner of a Cantina scene.
@riancjohnson and I face swapped and it was awesome and terrifying. #firstpictureihavebeenallowedtopostfromsetwithoutsomeoneelsepostingitfirst #showingalltheinstagramlovetoday ????????????????????????
While Johnson and Ridley are face swapping, John Boyega is heading home for a (presumably) well-deserved break, because he has officially finished his work on Episode 8. Naturally, he celebrated with a picture on Instagram, because this is 2016 and that's what all of the cool kids do. 
Done! A photo posted by BOYEGA (@jboyega_) on Jul 7, 2016 at 12:10pm PDT
Boyega isn't the only major cast member who has wrapped. Anthony Daniels, who you surely know as the man inside C-3PO's golden plating, has also finished. As is his social media style, he was incredibly gracious to those who worked on the film.
Sad yesterday. I wrapped on Ep VIII. Thanks to ALL the team especially David & Joe, Kathy & Ram, Jamie & of course RIAN. I have loved it. XX

— Anthony Daniels (@ADaniels3PO) July 7, 2016
That brings us back to Johnson, shared a few non-NDA-shattering images from the set. First up is this table, which should look very familiar to anyone who has spent their fair share of time examining the interior of the Millennium Falcon...
Then there's close-up of...something. Scuffed armor? The floor of a set? A wall? Anyone much smarter than me want to take a swing at this one? 
A photo posted by Rian Johnson (@riancjohnson) on Jul 7, 2016 at 5:08am PDT
Finally, here's a shot of a soundstage ceiling, which serves as a helpful reminder that all of the sets built at Pinewood studios have remained entirely under wraps. We may have seen a lot of what went down in Ireland and Dubrovnik, but this portion of the the movie remains a tantalizing mystery.
Star Wars: Episode 8 is set for a December 15, 2017 release date. We can expect to learn more next week when Star Wars Celebration kicks off in London. In the meantime, you should probably follow Rian Johnson on your various social media platforms.