'Annihilation' Set Photos Tease Another Evocative Science Fiction Tale From Alex Garland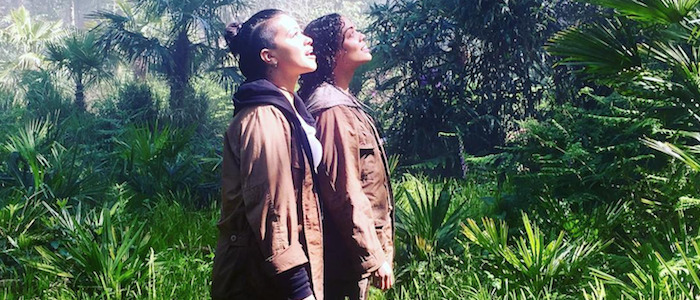 Alex Garland's Annihilation is quietly wrapping up filming and I wish this movie had an official release date so I could start counting down the days until its release. It's hard to imagine a more perfect marriage of filmmaker and material – Jeff VanderMeer's 2014 novel is one of the best genre novels I've read in a long time and Garland has already proven himself to be adept with small scale, creepy, adult science fiction with last year's Ex Machina (one of our favorite films of 2015).
While the production has been pretty quiet, a slew of images from the set have been slowing arriving online via social media over the past few weeks, giving us our first kind-of, sort-of official look at this film.
Cinematographer Rob Hardy, actors Gina Rodriguez and Tessa Thompson, and other members of the production have been sharing photographs from the set of Annihilation on Instagram, offering a fine glimpse at what could very well be a stunningly beautiful movie. After all, if these locations look this lush and evocative through a smartphone camera, they could look downright amazing when shot and lit by professionals.
Here's what you need to know about the mysterious landscape seen in all of these images: this is Area X, a strange (and slowly expanding) area of land where the natural laws of our world don't always apply. A team of four unnamed researches, played by Natalie Portman, Jennifer Jason Leigh, Gina Rodriguez and Tessa Thompson, are the latest team to investigate this mysterious place, following in the footsteps of numerous other doomed expeditions. A lot of unsettling and creepy and bizarre incidents occur.
VanderMeer's book is a brisk read and not especially cinematic (much of the action takes place within the mind and memories of Portman's character, the Biologist), but it's so evocative and terrifying that it's easy to see why Garland was drawn to it. On the page, the book feels like a spiritual cousin to the work of H.P. Lovecraft, using science fiction concepts to create a feeling of pure existential terror. That perfect cocktail of horror and sci-fi that Garland brought to Ex Machina should easily apply here.
The Film Stage was the first site to do the proper detective work and compile all of these images into one place, so head over there if you want to examine every single post. I have included some of my favorite posts below. All signs point to Annihilation arriving sometime in 2017.
My boo. ???? #annihilationFilm ???? by director Alex Garland. A photo posted by Gina Rodriguez (@hereisgina) on Jun 17, 2016 at 4:15pm PDT
Lit with the magic of movie making, on Annihilation, with my sunshine @hereisgina ???????? . Photo by director Alex Garland
wrapped on Annihilation. quite possibly a very beautiful film. can't wait [for you] to see. A photo posted by Tessa Thompson (@tessamaethompson) on Jul 5, 2016 at 9:57pm PDT
Unrelated Paraphernalia A photo posted by R o b H a r d y b s c (@rdhardy) on May 23, 2016 at 2:50pm PDT
Thursday afternoon. A photo posted by R o b H a r d y b s c (@rdhardy) on Jun 9, 2016 at 3:01pm PDT
A big thank you to @chivexp for hosting the BSC feed for the last few weeks. An invaluable, insightful & beautiful visual monologue. Our next host will arrive shortly. In the meantime, a brief meditation on an attempt to capture night as it appears to the eye. Always, at least to me, one of the apparent holy grails of cinematography. How does one capture the monochromatic, sourceless effect that the eye always sees? Here is a image taken on the set of ANNIHILLATION – not a frame grab from the film itself, but a reference still for a DI at some point in the near, or distant, future. @bscine #bscine @rdhardy
Zone (Version 2) – a preparatory image taken for the current Alex Garland project, ANNIHILATION. One of a series of landscape studies. The focus here is on finding colour refractions and anomalies in the surrounding air – #bscine #alexgarland @rdhardy (I'll be jumping in for a couple days until our next host becomes available) .... A photo posted by BSC (@bscine) on May 16, 2016 at 3:52am PDT
A preparatory image forming part of our research library for ANNIHILATION. This close up of a Bonsai was captured on a trip to the Botanical gardens in Brooklyn. Elegantly psychedelic, playfully surreal, and microscopically deformed with a twisted relentless intention. #bscine #alexgarland @rdhardy