'Edge Of Winter' Trailer: Joel Kinnaman Gets Stranded In The Chilly Woods With Tom Holland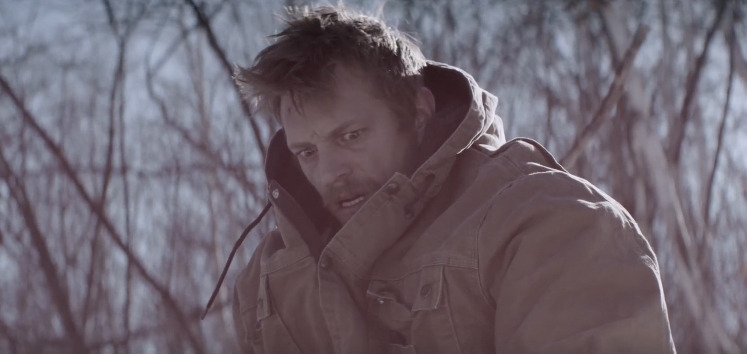 This summer, both Joel Kinnaman and Tom Holland will becoming a little better known to general audiences. Tom Holland has already gotten plenty of acclaim as the new Spider-Man who debuted in Captain America: Civil War while Joel Kinnaman is shaking off the awful RoboCop reboot with a turn in the DC Comics flick Suicide Squad. And now an indie thriller starring both of the actors is looking to capitalize on their elevated fame.
Edge of Winter sees Joel Kinnaman as a father on the edge, downtrodden by divorce and getting laid off. Desperate to connect to with his two sons (Tom Holland and Percy Hynes White), as the family unit they have with his ex-wife's new significant other literally looks picture perfect, he takes the boys out on a day trip into the winter woods to learn how to shoot and drive. But once they get stranded, things take a dark turn.
Watch the Edge of Winter trailer after the jump.
This looks like a trailer that's trying really hard to amp up the suspense and tension in the a movie that is likely much more quiet and slow-burning. The fast-editing of the car getting stuck in the snow is evidence enough that this trailer really wants to create some excitement that may not be there.
Having said that, the performance from Joel Kinnaman looks unhinged enough to make this one worth watching. A family trip slowly turning into a sort of hostage thriller could offer a solid thriller, regardless of whether or not there's any real action. Just the concept of a father trying this desperately to hold onto his kids offers enough tension to make a decent movie.
Edge of Winter hasn't been screened at any festivals or anything like that, so it's hard to know for sure, but maybe the talent on board will make the directorial debut from Rob Connolly (who also wrote the film with Kyle Mann) worth watching.
Recently divorced and laid off from his job, Elliot Baker (Joel Kinnaman) is desperate to spend more time bonding with his sons, Bradley (Tom Holland) and Caleb (Percy Hynes White). What starts as family day trip to teach his boys how to shoot turns into a nightmare when they become stranded. As they retreat to a desolate cabin, Elliot's mounting fear of losing custody pushes him to the edge. The brothers quickly realize that the man responsible for keeping them safe has now become their biggest threat.
Edge of Winter hits limited theaters on August 12 but arrives on VOD before that on July 26.