Jean-Claude Van Damme Has His Feet Ready For More In 'Kickboxer: Retaliation'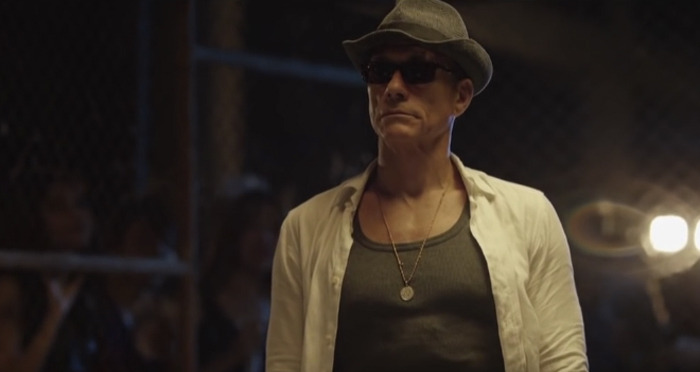 You may remember back in March we highlighted the teaser trailer for Kickboxer: Vengeance, yet another installment in the franchise that starred Jean-Claude Van Damme. The original Kickboxer from 1989 followed JCVD as a fighter named Kurt Sloane who must learn the kickboxing art of Muay Thai in order to avenge the death of his brother. Kickboxer: Vengeance was taking that story and updating it for contemporary audiences with Alain Moussi playing the Kurt Sloane character and Jean-Claude Van Damme playing his mentor. It's basically a reboot of the original, and now it appears it will also be the beginning of a new franchise.
Earlier this week, Jean-Claude Van Damme took to his Facebook page to sign the contract for Kickboxer: Retaliation, a sequel that will follow Vengeance. JCVD will return as the mentor to Alain Moussi as he's taken forcibly back to Thailand to fend for his life against a new formidable foe. Find out more about the Kickboxer sequel below.
New cast members include boxer Mike Tyson in an unspecified role and Brazilian soccer player Ronaldinho is also part of the cast as an imprisoned expert martial arts kicker who shows Sloane how to refine his deadly kick. So JCVD may not be as big of a part of this sequel as he was Kickboxer: Vengeance.
But perhaps the most exciting person on board the sequel is Hafþór Júlíus Björnsson, better known to most audiences as "The Mountain" from Game of Thrones. Björnsson is a professional strongman and basketball player in Iceland in addition to his acting work, and he's playing that formidable foe mentioned in the brief logline.
Production on Kickboxer: Retaliation begins in Thailand next week, but it's hard to know if this is something we should be excited about since Kickboxer: Vengeance won't hit theaters and VOD until sometime in September. Both films are directed by Dimitri Logothetis, who holds two black belts but hasn't directed anything you've heard of.
My bet is this will be something akin to a straight-to-DVD quality movie that MMA fighting fans or hardcore Jean-Claude Van Damme fans will want to check out but nothing more. Still, there must be some kind of confidence in the reboot to get a sequel into production before it even premieres. Or maybe they're just so cheap to make that it doesn't even matter.
Personally, I'm looking forward to seeing Amazon's comedy pilot starring Jean-Claude Van Damme come together instead. The premise sounded fantastic, and hopefully we'll get to see that sooner than later.