LOL: 'Everyone Poops' Movie Trailer Teases A Blockbuster Epidemic You Can't Avoid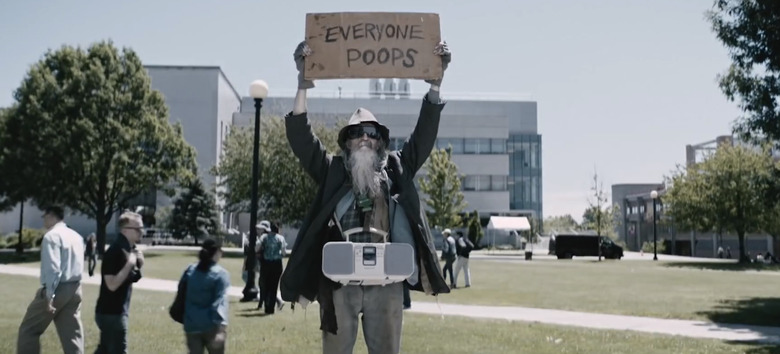 With all the intellectual property being turned into movies nowadays simply for the benefit of brand recognition, it's amazing that the well-known children's educational book Everyone Poops hasn't been turned into some kind of family comedy. Instead, a new sketch from the NBC variety show Maya & Marty (hosted by Maya Rudolph and Martin Short) imagines Everyone Poops as a whistleblower thriller where the American government and most of the citizens of the United States don't want to believe the truth.
Watch the Everyone Poops movie trailer after the jump.
I haven't yet taken the time to sample Maya & Marty, so this is my first experience with the sketch show. I'm not sure how it's doing with audiences as a summer program, but this isn't a bad sketch for primetime network television. With the presence of Ana Gasteyer in the lead, Kenan Thompson and a cameo from Kevin Kline, this feels like a legitimate Saturday Night Live sketch. But that shouldn't be surprising since Lorne Michaels produces Maya & Marty.
While looking up some more details about the summer variety show, I've since discovered that Jiminy Glick has been revived by Martin Short for segments here and there where he interviews celebrities. Most recently, the famous interviewer sat down with Jerry Seinfeld and the results were just as hilarious as you'd expect:
There's a chance I may have to set up a series recording of Maya & Marty to see what else this variety show has up its sleeve. At the very least, the prospect of Jiminy Glick each episode is enough to tune in. Or we could just wait after each new episode to see the highlights online. Whatever works.