Episode 8 Bits: Wrap Date Revealed, A Missing Jedi Beard, And A Mysterious New Hairstyle For Rey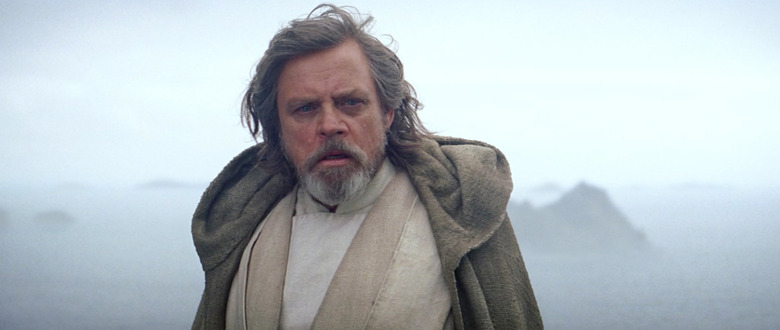 In this edition of Episode 8 Bits:
Star Wars: Episode 8's wrap date has been revealed.
Mark Hamill has shaved his beard.
Daisy Ridley is hiding her hair for some reason.
Another look at some gorgeous Irish filming locations.
Set footage confirms the mildest possible spoiler.
In a recent edition of Episode 8 Bits, I was pondering when Star Wars: Episode 8 would wrap filming, especially since director Rian Johnson was making it very clear that there wasn't much time (he was wrapping major actors). And then Mark Hamill decided to answer this query for us:
So let's take a moment to over-analyze the fact that Episode 8 is wrapping on July 22, 2016. That is five days after Star Wars Celebration in London, which means that Johnson's panel with Han Solo spin-off directors Chris Miller and Phil Lord comes in the final days of shooting (and will probably be bookended by him tearing his hair out as he is forced to abandon the set for a day). However, that is also during San Diego Comic Con, which means that anyone hoping for some kind of Episode 8 presence at this year's convention should probably start reducing their levels of hope to the bare minimum. And that makes sense. Rogue One: A Star Wars Story is next in line and it will be rightfully dominating headlines for the next six months. Episode 8 is still well over a year away – it can get away with taking its sweet time.
While we're finding things to talk about by scraping Mark Hamill's Twitter feed (we Star Wars fans sure are a hungry bunch), take a look at the image above. Look past the endorsement for the cute children's book series and look past the cuter dog. Specifically, look just under Hamill's right ear and note that his grizzled Jedi beard is nowhere to be seen. Yes, Luke Skywalker is officially beardless once again. What do we draw from this, beyond Hamill owning a working razor? With Episode 8 still filming until July 22, this means that Hamill has either quietly wrapped or Luke will lose his beard at some point during the actual film.
How about one more Hamill tweet before we move on? When asked about that famous table read for Star Wars: The Force Awakens and whether it was awkward to sit there while he didn't have any lines of dialogue, he noted that J.J. Abrams has actually asked him to read all of the stage direction, which meant that he ended up speaking more than all of his co-stars.
#DOUBLEPOSTMONDAY! If @riancjohnson can share it, so can I ???? oooooh la laaaaaa, where could it be, what could it mean! #episodeVIIIiscoming ...... #in18months #thewaitstruggleisreal ????????????????????????????????????????????????
Now that we're done scouring Mark Hamill's social media, let's turn toward the Instagram page of Daisy Ridley, who has spent the bulk of her time on Episode 8 working with Hamill in Ireland. So let's go ahead and start with an image she took on one of the film's Irish locations, which gives us an amazing glimpse at just how gorgeous these scenes could look. The landscapes the crew has been filming on are beautiful enough to look genuinely alien and if they're this stunning when viewed through a smartphone camera, imagine what they'll look like through Rian Johnson's lens.
SURPRISE! It's #workoutwednesday cause I don't know if I have time to train Friday! Ran to t????the gym between different set ups so wore a pillowcase on my head to protect my REY HAIRSTYLE from Instagram's gaze ???? #topemployee #secrecyqueen @gravzy12 pushing me super hard! #strongfortoolong #gainz ALSO Eid Mubarak! ???????????? A video posted by @daisyridley on
Ridley also shared footage of a recent visit to the gym between scenes on the Episode 8 set, which shouldn't be too shocking for anyone who already follows her. Inspiring workout videos showcasing just how capable she is of kicking your ass are her social media bread and butter. The weird twist with this one is that she's wearing a pillowcase over her head to protect her "Rey hairstyle" from the public. So there you go: Rey gets a new hairstyle in Episode 8 and it's apparently a big enough change that she has to keep it top secret.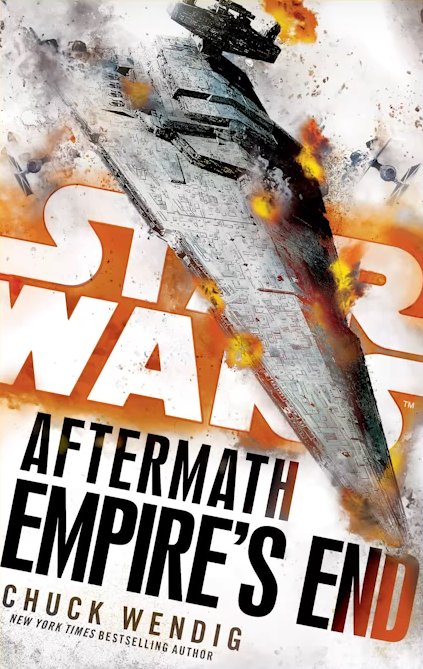 While it may not have any direct connections to Episode 8, the cover for the third book in Chuck Wendig's Star Wars: Aftermath series has arrived. Titled Star Wars: Aftermath – Empire's End, the book will hit shelves on January 27th, 2017. The second book in the series, Star Wars: Aftermath – Life Debt, arrives on July 12 of this year.
And finally, we're going to dip our toes into slight spoiler territory, but this should only concern those who want to know absolutely nothing about the film before they are actually seated in a movie theater in December 2017. Still here? Okay. We heard a few weeks ago that there will be a scene where Luke Skywalker mediates on top of an odd rock, which makes sense. Jedi are warrior monks! Of course they're going to mediate! And if you're going to meditate, you might as well do it on a cool rock. Anyway, the footage above finds Luke (possibly played by a stunt double) standing on top of said rock, the wind blowing his robe as the sun sets behind him. So there you go: Luke Skywalker meditating on rock scene confirmed!