'Keeping Up With The Joneses' Set Visit: Jon Hamm Gets Silly With Zach Galifianakis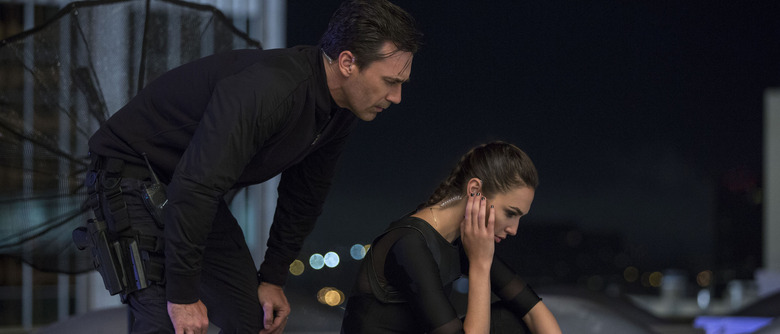 Standing before me in black tactical gear, hair combed back but just a bit unruly, Jon Hamm looks exactly like Sterling Archer. He's not wearing a tactleneck, but aside from that detail the illusion is perfect. As seemingly everyone did, I watched Hamm on Mad Men for years, so the timbre of his voice and his patterns of speech are intimately familiar. But in this getup I expect — I want — him to sound like Archer.
Jon Hamm knows this. He's voiced a character on the show, after all. And would you be shy if knew you were the living incarnation of TV's greatest/most irritating spy? Probably not. "Lanaaaaaaa!" he bellows before anyone can ask him to do so.
We're outside the Atlanta set of Keeping Up With the Joneses, a 20th Century Fox movie in which Hamm plays half of a super-spy couple living undercover in the suburbs. His character Tim Jones is partnered with Natalie Jones, played by Gal Gadot, in life and work. We see the glamorous, ultra-capable pair through the eyes of a much more mundane couple, who are more than slightly agog as the spies-in-disguise set up stakes in their quiet, tree-lined neighborhood. 
Given those two leads and the setup, this could be skewed as an action film, Mr. and Mrs. Smith revamped, or an American The Avengers. (No, the other Avengers.) At the end of this day, on a large set dressed like a posh penthouse that is maybe two steps down from a Bond villain pad, Hamm and Gadot will take part in a gunfight with the movie's Big Bad and assorted henchmen. The action is fast and violent, and complicated by the film's other two major characters, who are in way out of their element.
Isla Fisher and Zach Galifianakis play the "normal suburbanites," as Galifianakis calls them, a work-from-home designer in mom jeans and a security company drone, who are agog at their new neighbors. Then Fisher's character sniffs out the truth about the newcomers, and things get weird.
The film's first trailer is already out. It explains the concept well, and has flashes of the penthouse-suite action scene, so watch this footage before going further:
It's early June in 2015 and we're outside a former Baskin Robbins warehouse off to the side of an Atlanta neighborhood. Inside is the penthouse set. Later in the calendar year, a day like this might be a hothouse sauna intense enough to liquify Hamm inside his costume. This afternoon, however, would be ideal for exactly the sort of "banal BBQ chat" Isla Fisher explains as the bread and butter of her character's life.
"She is actually the girl next door, the mom that we know," says Fisher of her carpool-captain character. "She wears the mom jeans, she does the school run... but she's also very smart. She's the first one to crack that the Joneses are not who they say they are. It's her exploration into their life that uncovers the whole plot, really." Fisher works on the reliability of her character so that her marriage to Galifianakis, "who has a simplistic attitude to life," will make sense.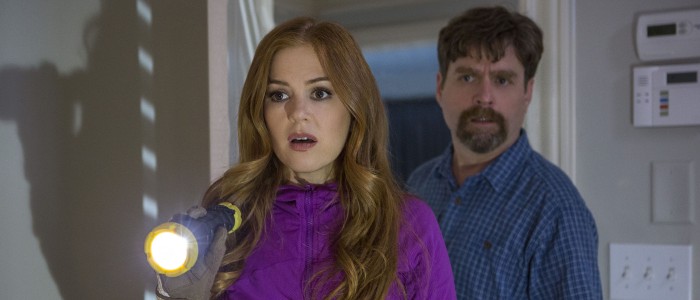 Even with two married character sets, the film's core pair may really be Galifianakis and Hamm, who have known one another for years. Hamm was an early guest on the web show Between Two Ferns, where Galifianakis occasionally plays a clueless and sometimes softly belligerent cable-access talk show host.
"I've known Jon before Jon was Jon Hamm," recalls Galifianakis. "A lot of leading-type guys like that don't have humor. They think they do, but they don't." Hamm has it in spades, as evidenced by his appearances in Bridesmaids and 30 Rock. With Mad Men in the rearview mirror he's been going deep with TV stints on Wet Hot American Summer and Unbreakable Kimmy Schmidt. "He's funny like a comedian is funny," Galifianakis enthuses.
Hamm describes how his friendship with his co-star helped make this film happen, with Greg Mottola (Adventureland, Superbad) directing.
"I've known Zach for almost 15 years now and really wanted to do something with him not on the internet," Hamm explains. "When I did Between Two Ferns it was very early on in the Mad Men thing and I don't think that people knew who I was, or cared, or thought the guy from Mad Men would be funny." The show worked out really well, however, and fanned Hamm's love of comedy. "I had a blast. We shot 90 minutes that we culled down to 2 1/2 [minutes] and it was fun."
This is where you begin dreaming of seeing the other 85+ minutes of Between Two Ferns outtake footage.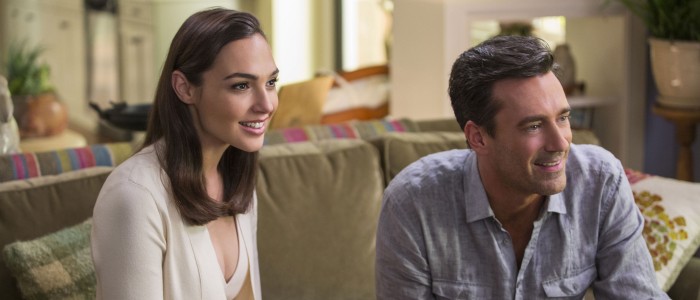 Hamm had worked with Mottola on the Larry David movie Clear History, seen on HBO in 2013. The reunion was part of this film's appeal. "Greg has been remarkably effective at bringing that kind of humanity to all of his films," the actor said. "Humanity" in this case applies to the cast, and also to the fact that Hamm's character isn't pushed into delivering just one tone.
"My character is not just this straight-laced action figure," Hamm explains as he thinks about the role. "He has a sense of humor and as we find out in the movie, he's sort of a reluctant spy. He's really good at his job, he just doesn't really like it because it's not fulfilling to him. That was the place we jumped off with this character — that was the spice that stirred the soup for me, anyway."
That "reluctant spy" angle also causes some conflict with the character played by Gal Gadot. "She loves being a spy," Gadot explains with undisguised enthusiasm. "That's the problem they have in their relationship. She's so much into this world and he's not. He doesn't like the lies, he doesn't like playing an act. She's all about the adrenaline — the mission."
Nine months before the release of Batman v Superman: Dawn of Justice, Gadot isn't about to give away anything related to Zack Snyder's movie, much less the solo film that follows it. She does give off a sense of great anticipation, however. "I can say, being the mother of a 3 1/2 year-old daughter, it's very important for me to show her that women are great. I'm looking forward to doing [Wonder Woman], and I hope everyone is going to enjoy it and be inspired by it.
***
Keeping Up With the Joneses opens on October 21.