New 'Ghostbusters' Clip Shows Off New Ghostbusting Gear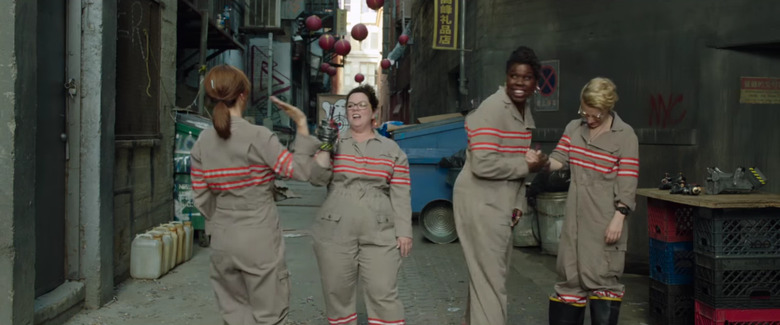 All the paranormal know-how in the world won't get you very far in a fight against a ghost unless you've got the right gear. So in the first Ghostbusters clip, the gang tests out some new equipment designed by one of their own, nuclear engineer Jillian Holtzmann (Kate McKinnon), including a ghost chipper and a proton glove. Patty Tolan (Leslie Jones) is probably right to be scared of Jillian, even if it all kind of works out okay in the end. Watch the Ghostbusters clip below.
Hand-to-specter combat ready. #Ghostbustershttps://t.co/edpF69iddq

— Ghostbusters (@Ghostbusters) June 30, 2016
Yep, get ready for your kids (or your nieces and nephews, or your friends' kids) to come begging for plastic versions of these gadgets come Christmas. They should go nicely with the newly redesigned proton pack that's also on their wishlist to Santa.
All the paranormal stuff may be new territory for director Paul Feig, but between Bridesmaids, The Heat, and Spy, he's shown that he's more than comfortable with ensemble comedies. And the cast seems to have a good rapport with each other. McCarthy and Wiig previously worked with Feig on Bridesmaids, of course, and Jones and McKinnon have been starring together on Saturday Night Live for the past several years. It's a promising combination of talent, at least if you generally enjoy this group's style of humor.
Will the new Ghostbusters measure up to the original? It's certainly got its work cut out for it, given how near and dear the old one is to people's hearts. The decision to make a reboot rather than a sequel could go either way — it gives the new Ghostbusters more freedom, but also runs the risk of disappointing fans who expect a stronger connection to the original. But on its own merits, this looks like a pretty fun summer comedy, and we could use one of those right about now. And no matter what happens, remember: nothing Paul Feig does will ever erase your treasured memories of Ivan Reitman's Ghostbusters. If the new one is great, great; and if not, we'll always have that original classic.
Ghostbusters opens July 15, 2016.
Ghostbusters makes its long-awaited return, rebooted with a cast of hilarious new characters. Thirty years after the beloved original franchise took the world by storm, director Paul Feig brings his fresh take to the supernatural comedy, joined by some of the funniest actors working today – Melissa McCarthy, Kristen Wiig, Kate McKinnon, Leslie Jones, and Chris Hemsworth. This summer, they're here to save the world! The film is produced by Ivan Reitman and Amy Pascal, and written by Katie Dippold & Paul Feig, based on the 1984 film "Ghostbusters," written by Dan Aykroyd and Harold Ramis and directed by Ivan Reitman.