Theme Park Bits: Explore Universal Studios' New 'The Walking Dead Attraction,' Updates On Disneyland's 'Star Wars' Land, And Universal Tests VR Rides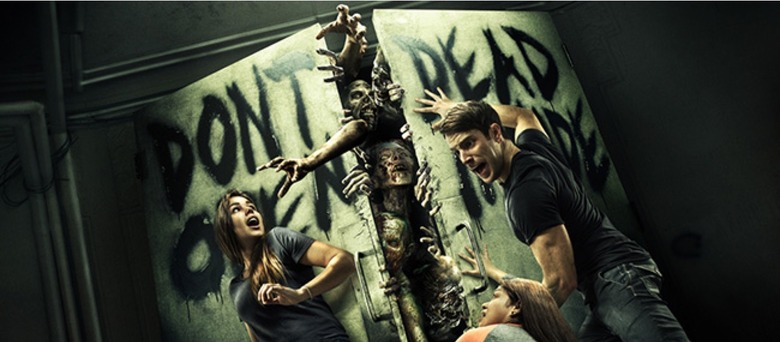 In this edition of Theme Park Bits:
Take a very close look at the new The Walking Dead Attraction and read an early review.
Learn how and when you can audition for Halloween Horror Nights.
Universal Studios doubles down on The Secret Life of Pets.
Disney introduces more Star Wars into its parks as Star Wars Land takes shape.
Universal is testing VR headsets for future attractions.
A new video teases the technology of Pandora: The Land of Avatar.
The history of Disney's scrapped Virginia theme park.
You've got to give Universal Studios credit – no major theme park creates major new attractions as quickly as these guys. While their East Coast park has already seen weeks of technical rehearsals for the new Skull Island: Reign of Kong ride, Universal Studios Hollywood just opened the The Walking Dead Attraction, a year-round, walkthrough maze based on AMC's ever-popular television series. The park has plenty of experience creating immersive "haunted house" attractions with their annual Halloween Horror Nights event, but as Inside Universal explains, this is far more ambitious than a typical Universal maze, which is built to be temporary and only experienced at night:
With the initial introductory scenes of the attraction aside, Murdy tells us that the goal is to bring The Walking Dead to life. Halloween Horror Nights fans rejoice – there are no black rooms, reset points, or drastic scene changes without a highly themed transition. He stresses that this is a daytime experience that has a different audience with different expectations. Although scares are a big part of the attraction, the real star is the theming and spectacle. The Walking Dead Attraction needs to stand on-par with the rest of Universal Studios Hollywood's attraction roster, which means immersive environments that don't resemble temporary fixtures.
As we walk through the remainder of the attraction, it's clear to see that this year-round walkthrough will be a step above anything we've ever seen at Halloween Horror Nights – as it should be. Guests will be treated to projection effects, strobe lights representing bullet ricochets, multiple scenes that can play out differently from one walkthrough to another, and of course tons of easter eggs for true fans to discover. Murdy even noted that around one third of the maze could be changed depending on what happens in future episodes of the television show in order to keep the attraction fresh and up to date.
Year-round walkthrough haunted houses are an uncommon sight at major theme parks these days, so the mere existence of The Walking Dead Attraction (which really needs a better name) is fascinating. The combination of live actors, standing sets, animatronics, and special effects is certainly ambitious. If you can't make it out to Universal Hollywood and don't care about having the major beats from the attraction spoiled for you, a great low-light video walkthrough can be watched below. We previously posted a different walkthrough, just in case you want a different perspective.
Of course, a video like that allows you to see certain seams that won't be noticed in the moment and the final experience won't feature a couple dozen entertainment journalists huddling around every turn and photographing every corner. But it certainly shows off the scope of the attraction. Some of the set pieces, like the burning house, are undeniably impressive. Others, like the room full of immobile zombie mannequins, are not. In the end, it looks like a polished version of a Halloween Horror Nights maze and that may be all of the necessary information for you to determine in this is the experience for you.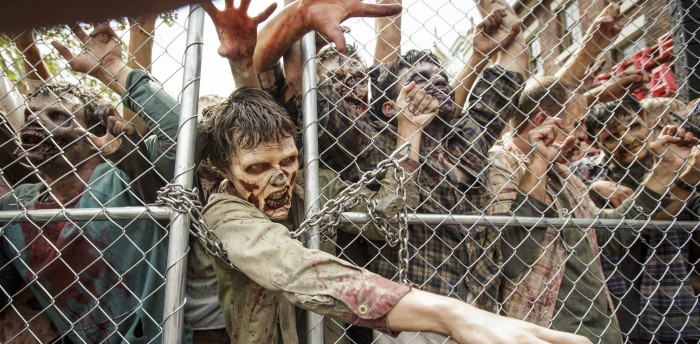 Speaking of Halloween Horror Nights, Universal Orlando is already holding auditions for this year's event, so if getting paid to dress up like a famous (or not so famous) movie monster or one of its victims sounds appealing, you can check out of the details over here. In recent years, Horror Nights has drifted away from original concepts and has started concentrating on bringing recent and classic horror movies to life, with mazes based on everything from Crimson Peak to An American Werewolf in London. If you've ever wanted to dress up like a Xenomoprh and jump out at drunk people, this is your chance.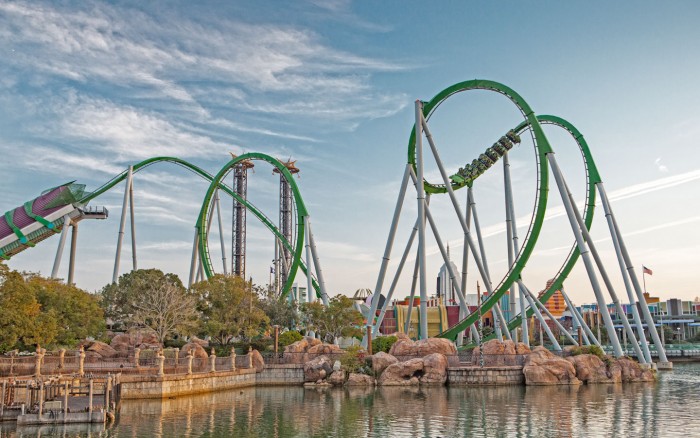 Virtual reality has been on the verge of making a mainstream breakthrough for a few years now and the theme park industry is has been trying to stay ahead of the curve. Six Flags recently converted a number of its aging roller coasters so guests can wear VR headsets as they ride, creating the illusion that they are experiencing something completely different. Now, the Orlando Informer is reporting that Universal Studios is experimenting with VR, offering guests a chance to wear headsets and experience an Incredible Hulk-themed simulation. If you're a Universal regular, this may make your ears perk up. After all, Islands of Adventure's beloved Incredible Hulk roller coaster is at the tail end of a massive refurbishment. Here's how the Orlando Informer describes the experience, which was being tested in a location across the park from the roller coaster:
The virtual reality demonstration is very short, but is immersive all 360 degrees you can look. The first scene takes place in a laboratory (presumably located within the state-of-the-art military research compound the ride's redesigned queue is set in). Upon looking around, guests see plenty tones of green in what appears to be Gamma experiments and possibly the Gamma core itself.
The second scene takes place in a virtual version of the redesigned ride's launch tube, known as the Gamma accelerator. This scene makes the guest feel as if they have been harnessed into the coaster and are being launched. It is designed very similarly to the concept art previously shared by Universal. A new voice and audio track replaces the ride's famous "I think this time... it's going to work!" Shortly after launching, the virtual experience fades to white into the next scene. The third and final scene seems to be the longest, featuring a variety of 3D renderings of the coaster operating.
Interestingly, the article goes on to note that there are no plans to make the Hulk coaster into a VR experience. Rather, this test seems to be part of a study to see how guests react to the technology and whether or not it will be utilized in future attractions. As someone who has decidedly mixed feelings on VR being incorporated into roller coasters, I can't help but breathe a sigh of relief. The Hulk offers too many great views to be experienced through a VR headset.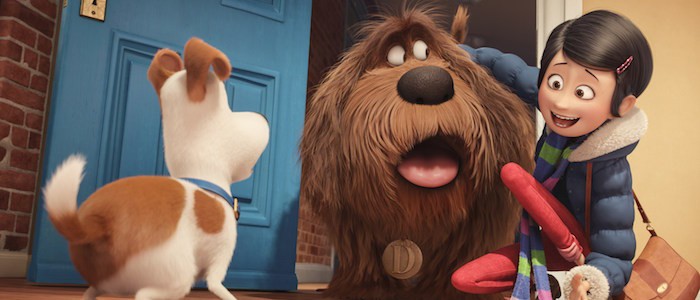 Although it hasn't been official announced or confirmed, Universal has heavily indicated that an attraction based on The Secret Life of Pets will come to the theme parks if the movie performs well. In the meantime, Universal Studios Florida has already begun laying the groundwork. The Animal Actors on Location! show and the nightly Cinematic Spectacular show will now include exclusive footage from the upcoming film. And then there's the photo booth that will insert characters from the film into your picture and, of course, all of the new merchandise based around the film. In other words, your admission to the park now comes with a whole bunch of extra marketing for a movie that the owners of said park really, really, really want you to see.
Meanwhile, Universal has filed plans to build another new hotel on its Florida property and Parkscope thinks it could be called the "Aventura Hotel" and feature a Mediterranean and Spanish theme. The size of the land set aside for the project also suggests that this will be a high-rise hotel, a first for a resort that has otherwise focused on more spread-out, thematic hotels.
While Universal Studios has been rapidly expanding on both coasts, Disney has been working on ambitious projects of its own. First up in Pandora: The World of Avatar, the new land coming to the Animal Kingdom park in Florida. We knew that Disney Imagineers have been utilizing brand new technology to bring James Cameron's film to life, but the video above does a fine job of running down some of the jaw-dropping things you can expect to see. Specifically, plants that will react to your presence and allow for interactive experiences.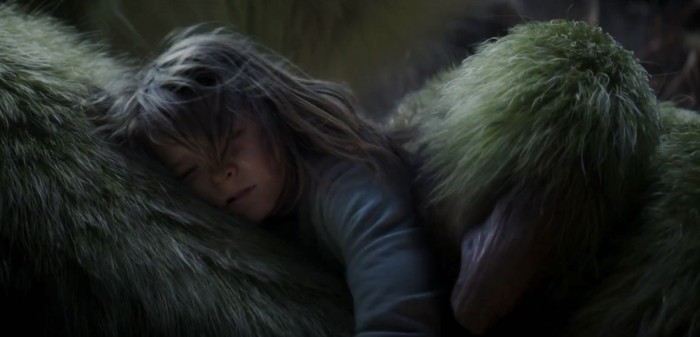 Because Disney is nothing if not a major corporation that would very much like you to spend money on the good and services it provides, they are now showcasing footage from the upcoming film Pete's Dragon at its West Coast and East Coast parks. Disneyland visitors can watch the presentation at the Sunset Showcase Theater in the California Adventure theme park and Walt Disney World visitors can check it out at the One Man's Dream theater in the Hollywood Studios theme park. California Adventure viewers will be able to watch the preview in 3D with special in-theater effects. Sorry, Florida.
#StarWarsLand went vertical today!!! #StarWars #Disneyland pic.twitter.com/BM0I648871

— Universal Core (@Universal__Core) July 2, 2016
Speaking of new things coming to Disney parks, Star Wars Land at Disneyland has officially gone vertical, which means that the giant pile of dirt is now...a giant pile of dirt with a partially constructed wall! If you want to take a look for yourself, it looks like you'll have to ride Big Thunder Mountain Railroad and look over the edge of the mountain at juuust the right moment.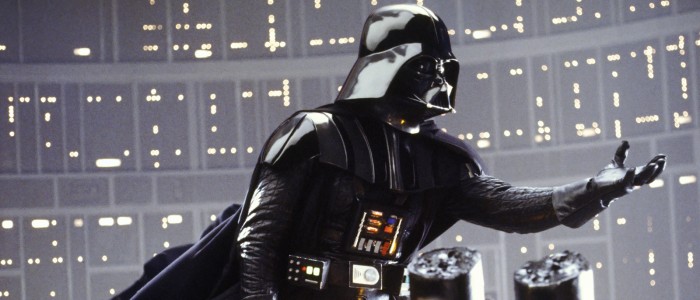 If you spent $69 to attend a Star Wars-themed dessert party of the Hollywood Studios park in Florida, note that your time spent eating cupcakes shaped like Darth Vader will now be located in the Star Wars Launch Bay exhibit. Let's face it: if you're going to spend that kind of money to eat Star Wars sweets, the very least they can do is surround you with Star Wars stuff. Anyway, the real perk here is that the admission cost also guarantees you a good spot for the Star Wars: A Galactic Spectacular nighttime show.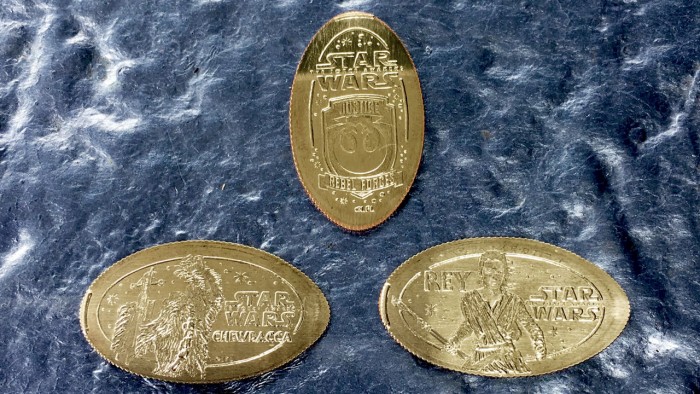 For years, visitors to Disneyland have bought pressed coins featuring all manner of Disney characters and park icons, only to lose them under the couch once they were home. Now, visitors to the park have the exciting opportunity to lose pressed coins featuring Star Wars characters. As you can see from the image above, you will someday fish out squished pennies bearing the likenesses of Rey, Chewbacca, and the symbol of the Rebel alliance out from your cushions.
While the Disney parks double down on Star Wars, let's take a journey back in time and remember how they almost built theme park based on American history in Virginia. Yep, Disney's America was almost a thing and the video above does a fine job of explaining what could have been.