LOL: Christoph Waltz & Jimmy Kimmel Audition For The Siegfried And Roy Biopic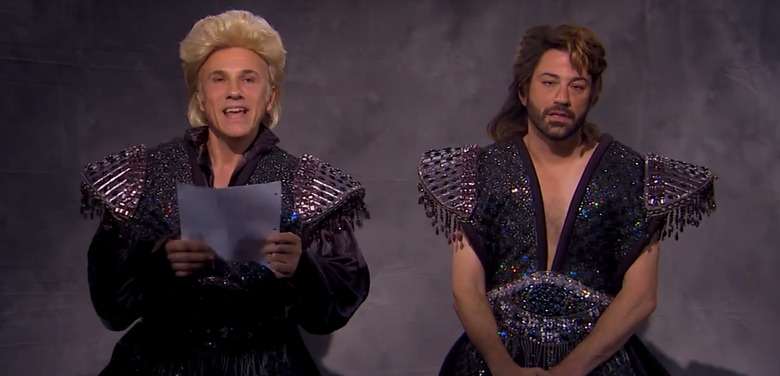 This weekend brings The Legend of Tarzan to theaters, but if the reviews and box office tracking are any indicator, it's not going to make many waves on the big screen. Thankfully, the film's villain Christoph Waltz already has his eyes on the future. Last night the actor appeared on Jimmy Kimmel Live! where he revealed that he and Jimmy Kimmel recently auditioned together for the recently announced Siegfried and Roy biopic. If their audition tape is any indicator, they're shoo-ins to take the lead roles.
Watch Christoph Waltz and Jimmy Kimmel audition for Siegfried and Roy after the jump.
Honestly, Christoph Waltz probably wouldn't be a bad choice to play Siegfried or Roy in the developing project, despite the fact that both he and Kimmel seem hellbent on playing Roy for some reason. Maybe it's because Roy got attacked by a tiger and that's the kind of scene that can get you an Oscar nomination. Who knows?
The existence of Siegfried and Roy has always been a baffling one to me. They feel like an act that popped up in the '70s or '80s and never updated with the times. Those outfits are just as flamboyant as anything Liberace wore and they have an unhealthy obsession with tigers. I know they're performing in the craziest city in the United States, but c'mon.
At the very least, at least the existence of Siegfried and Roy gave us this funny sketch with Waltz looking outstanding in that big blonde wig. If I were a casting director, his agent would be getting a call from me right away.