LOL: Matt Damon Pranks Unsuspecting People By Giving Them 'Jason Bourne' Spy Missions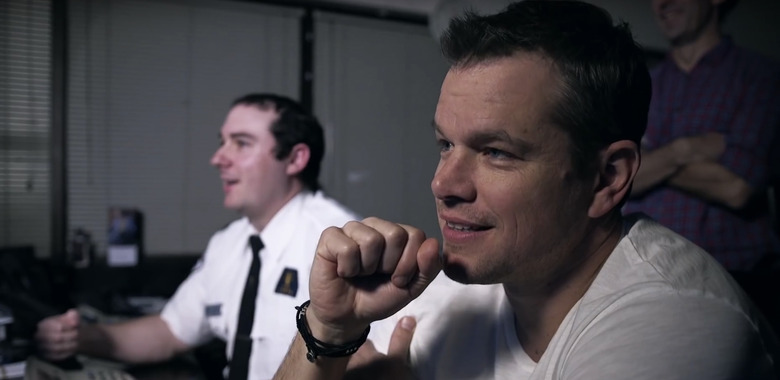 What would you do if a stranger handed you a phone, and someone on the other end of the call tasked you with completing a mysterious task? That's exactly what Matt Damon set out to do with a prank set up as part of a new Omaze charity campaign in conjunction with this summer's release of Jason Bourne.
Unsuspecting people were going about their day when they're handed a phone and told the call was for them. On the other end of the call is Matt Damon, who has a vital task for them to carry out. The reactions some of these people have to this movie scenario are hilarious while some are eerily casual about the whole ordeal. Watch the Matt Damon prank play out after the jump.
Here's the Jason Bourne prank video from the upstanding folks at Omaze:
Does anyone else want to see a prank show with Matt Damon and George Clooney after watching this? The latter is notorious for pranking his co-stars on the set of all his movies, and seeing how much fan Matt Damon is having in this video makes me want to see them team up.
This video also reminds me of the shortlived reality competition series The Phone that Justin Timberlake executive produced for MTV back in 2009. Lasting only six episodes, the show followed contestants who agreed to take part in a mysterious game, but had no idea what that would entail. The game entailed each contestant taking a call from "The Operator" and being tasked with some kind of movie plot style mission. It was a fun concept, but not executed in the best way.
Since this comes from Omaze, this is to promote a good cause through the charity, one that will allow you a chance to do something cool as well. For each entry of $10 or more at Omaze (going to support Water.org this time), you have the opportunity to win a trip to the premiere of Jason Bourne and go to the after party to have drinks with Matt Damon himself. You might even see some of these people who got pranked there, because they got tickets to the premiere for taking part. If you'd like, you can enter here at the Omaze website.
Matt Damon returns to his most iconic role in Jason Bourne. Paul Greengrass, the director of The Bourne Supremacy and The Bourne Ultimatum, once again joins Damon for the next chapter of Universal Pictures' Bourne franchise, which finds the CIA's most lethal former operative drawn out of the shadows.
For Jason Bourne, Damon is joined by Alicia Vikander, Vincent Cassel and Tommy Lee Jones, while Julia Stiles reprises her role in the series. Frank Marshall again produces alongside Jeffrey Weiner for Captivate Entertainment, and Greengrass, Damon, Gregory Goodman and Ben Smith also produce. Based on characters created by Robert Ludlum, the film is written by Greengrass and Christopher Rouse.
Jason Bourne opens July 29.